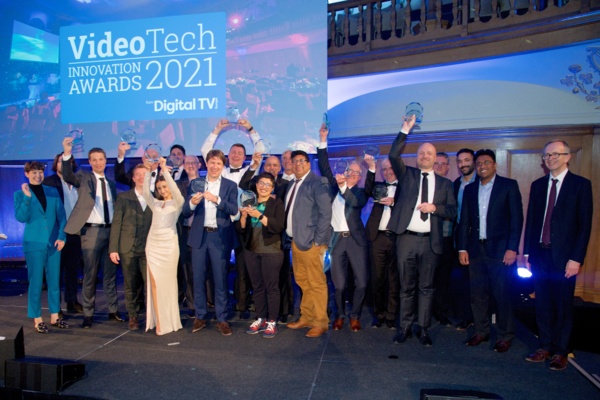 CommScope is proud to announce that it has won a VideoTech Innovation Award in the category Next Gen Advertising (Supply Side) for its technologically advanced Manifest Delivery Controller (MDC) solution. This award highlights CommScope's leading role in innovative advertising solutions for pay TV.
At a ceremony in Westminster, London, the industry gathered to acclaim the TV innovations and achievements that have taken place in the past year, a time when TV has become more central to daily life than ever before. The VideoTech award is just the latest success for CommScope's MDC, following the recognition of a Technical and Engineering Emmy® Award earlier this year.
An award-winning ad delivery solution
CommScope MDC is designed to help content providers deliver personalized entertainment that seamlessly integrates relevant ads to enhance customers' viewing experiences. The CommScope MDC is the market-leading Video Manifest Manipulator and gives providers a dedicated software solution that enables server-side dynamic advertisement insertion, content personalization and analytics for IP video.
A service provider or content owner delivering a video service can use CommScope MDC provides an opportunity to maximize revenues from IP video by targeting in-stream ad insertion, even down to individual device level. It supports blackouts, alternative content, personalized nDVR and Time-Shifted TV playback, and the option for real-time bandwidth policy per device. Customers can monitor and measure their service's success, with comprehensive data on usage and system performance.
Giving viewers what they want
The past 18 months or so saw people all over the world locked down in their homes for extended periods of time. A consequence of this was a big jump in audiences for streamed video. In 2020, the number of streaming subscriptions worldwide exceeded 1 billion for the first time. Online video service subscriptions grew by a massive 26%, as consumers everywhere signed up and logged on to apps to get their entertainment. It's a trend that looks here to stay.
The massive growth in video streaming also comes with increased viewer expectations. Nobody wants advertisements that aren't relatable and that detract from the viewing experience, but viewers are more likely to watch in-stream advertisements that fit their likes and preferences. Ideally video service providers include ads tailored to the viewer's preferences, which complement the personalized viewing experience, and that are executed seamlessly in a way that doesn't interrupt the viewing experience.
Making in-video advertising as effective as possible has never been more important: 44% of US viewers say streaming ads have influenced their purchases. Research has also shown that viewers retain 95% of a message when they watch it in a video versus only 10% when they read it in text. Research by PwC found that 72% of viewers say they prefer to see fewer ads that are not of interest to them[1]. In other words, context and relevance count.
The award-winning CommScope MDC enables customers to seamlessly stitch ads together with streamed content and, because it is pre-integrated with other advertising ecosystem components, is quick, easy, and cost-effective to deploy. It's also easily scalable to millions of sessions to ensure customers can always be reached no matter where they are. CommScope MDC makes it simpler than ever to deliver a world of entertainment and personalized experiences to customers now and in the future.
Download the eBook for more on IP advertising.