With new ultra-low latency connectivity, data rates up to 10 Gbps and more, and support for high-density traffic (think thousands of simultaneous connections per cell), 5G is demanding more from mobile network infrastructure. According to a 5G Americas white paper[1], to successfully deliver a satisfying 5G user experience, future transport networks will need to provide significant improvements in peak data rates, area traffic capacity, latency, synchronization, security, automation and new interfaces.
To handle the increased demand and 5G traffic, mobile operators are employing a variety of tactics:
Densifying their networks by adding up to 10 new small cells per every LTE macro site
Increasing capacity at existing sites
Expanding their network footprint to serve "zero-coverage" areas
Regardless of the approach, all cell sites must be connected to the rest of the network via backhaul. While there are existing and emerging backhaul solutions, microwave backhaul using millimeter wave and dual band antennas may provide network operators the greatest "backhaul bang for their buck."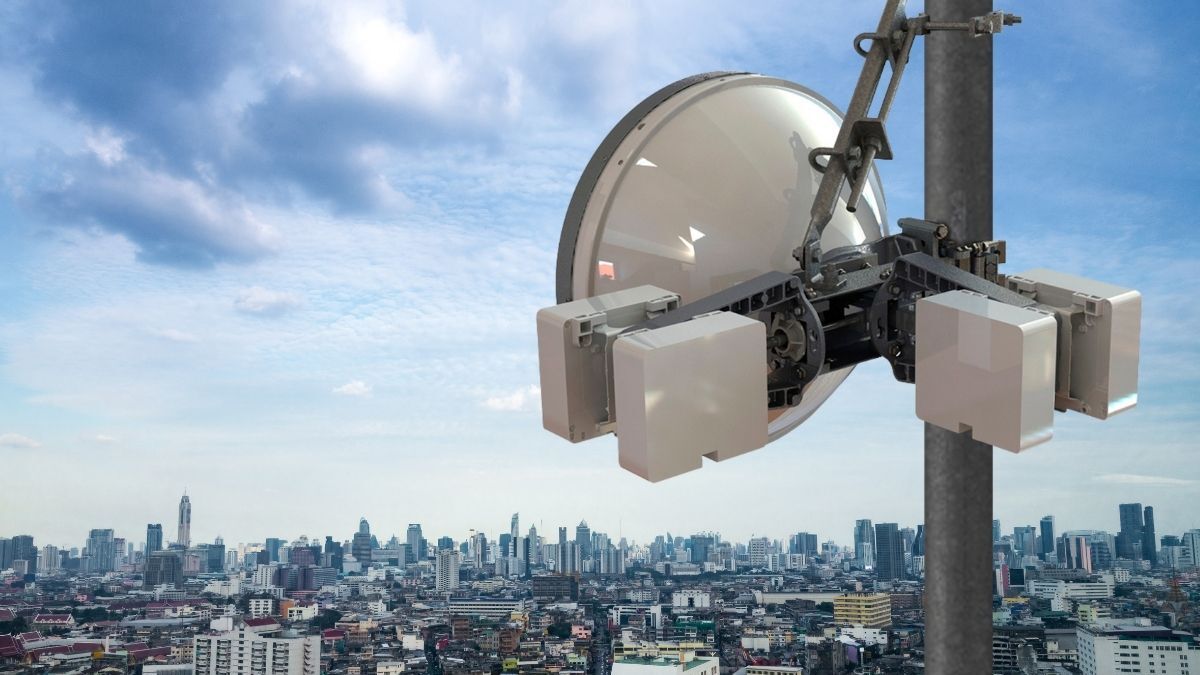 Click-to-tweet: With new 5G backhaul challenges, dual-band antennas can help network operators to improve backhaul capacity and help ensure their networks are 5G-ready.
New 5G backhaul challenges
With previous mobile generations, backhaul had to overcome availability, capacity, cost, and reach challenges to meet the new levels of demand. However, 5G's impressive fronthaul and midhaul capabilities create two new and unique backhaul challenges: the need for extremely dense networks and meeting the low latency requirements for advanced applications.
Compared to fronthaul and midhaul networks, backhaul networks may be less affected by latency requirements, but the bigger concern is the backhaul capacity strain. While 4G networks currently need about 1GbE of backhaul, the backhaul capacity requirements are expected to climb to 10GbE or higher as 5G picks up speed.
While 5G's high-capacity demands may be best served by a direct wired fiber connection, the huge number of new site locations needed to enable 5G, plus the time and cost of running fiber, significantly limits the use of fiber backhaul.
Why microwave/millimeter wave backhaul appeals to operators?
Quick and inexpensive to deploy, microwave technology offers the capacity to connect individual or small numbers of aggregated sites back to the core fiber network. With expansion in the traditional microwave bands (6–38 GHz) restricted due to frequency congestion and high levels of interference, opportunities to increase backhaul capacity have shifted to the 71–86 GHz (E-band) frequency range.
While the market for traditional microwave frequencies appears flat for the next several years, the E-band market is projected to see significant growth across the globe. For example, the upcoming release of E-band spectrum in India adds another significant market to those already seeing widespread E-band deployments, including Europe, North America, and the Middle East. With a large channel size available and relatively easy access to spectrum due to regional licensing strategies, E-band is an attractive option for most operators. Today, more than 80 percent of countries with a known telecommunication regulatory body status are open for deployment of E-band.
E-band's traditional Achilles' heel has been its limited range; depending on antenna diameter and local climate, E-band signals can travel only a couple of miles (about 3.2 km) before its reliability falls below 99.999 percent. One way to resolve this is to combine E-band signals with traditional microwave signals.
Enhanced microwave backhaul that combines traditional microwave and millimeter wave frequencies on a single dual band antenna may provide operators the best combination of signal quality, link distance, time to market and total cost of ownership.
Dual band microwave antenna, a key enabler
Simulation and actual field results indicate that using a dual band antenna capable of transmitting and receiving E-band and traditional microwave can significantly increase link length, improve backhaul capacity and reduce overall network costs while maintaining "five 9s" reliability.
For developments in 5G wireless backhaul, download CommScope's white paper: https://www.commscope.com/globalassets/digizuite/936995-ValuLine80GHZ-MWS-QA-CO-116291-EN.pdf
[1] Innovations in 5G Backhaul Technologies: IAB, HFC & Fiber; 5G Americas, white paper; June 2020