Federal agencies view faster network speeds, enhanced data privacy, and more network capacity as important to their 5G strategies, according to a flash poll conducted by the Government Business Council (GBC) and sponsored by CommScope.
The advent of fifth generation wireless technology promises a new era of communications for federal agencies. Across the government, federal agencies are exploring 5G's implications for their missions, from taking defense technologies to the next level to improving telehealth visits for veterans. But just how far are agencies on their journey? What do they need as they transition?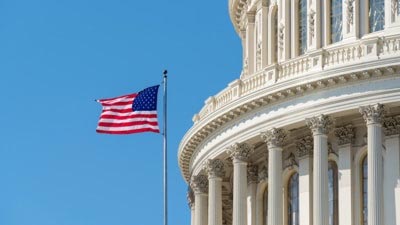 To explore sentiments around how federal government employees view their agency's 5G progress, GBC conducted a brief survey with 116 federal government employees between November and December of 2021.
According to the survey report, "Preparing for the 5G Future," 43% of the respondents think increasing speed within the network is the most important for their agency, while 32% said ensuring data privacy is an important consideration. Twenty-three percent of respondents consider increasing the capacity within their network to be most important.
Click to tweet: According to poll, Feds view network speed and data privacy key 5G benefits. 43% of the respondents think increasing speed within the network is the most important for their agency, while 32% said ensuring data privacy is an important consideration
Ready to Adopt 5G in Two Years?
When asked just how prepared their agencies are to deploy 5G technology, 45% of respondents said their agency will be ready to adopt 5G in less than two years, if not sooner or are ready now. However, 19% of respondents think it will be more than five years before their agency is 5G ready.
Some agencies have begun investing in 5G technologies earlier than others, including the Defense Department's 5G Task Force, which has already set up test beds on several military installations. The Pentagon has been on the forefront of 5G readiness. To date, the department has successfully demonstrated a high-speed 5G network for smart warehouses that improves inventory management, machine learning for inventory tracking, and augmented/virtual reality applications for better workforce efficiency in military warehouse and logistics operations.
Other projects are focused on experimentation and prototypes for spectrum sharing, base security and surveillance, advanced training and next-generation wireless capabilities to improve healthcare for service members in the U.S. and around the globe.
On the civilian side, the Federal Communications Commission (FCC) is also modernizing its regulations and updating its infrastructure policy to better support 5G implementation both inside and outside federal agencies.
Overcoming Adoption Barriers
That said, there are still 5G adoption barriers to overcome.
Eighty-one percent of the respondents cite reluctance to adopt and 68% cite the lack of existing infrastructure as barriers to their agency advancing the 5G journey. Moreover, respondents suggest that there is still room for educating federal employees and agencies on the potential of 5G. For example, one agency manager noted a "lack of understanding and implementation by its end users" as a barrier to 5G adoption. Increasing funding and investments into agency 5G infrastructure, following guidance from the Cybersecurity and Infrastructure Security Agency (CISA) and the National Cyber Strategy, are significant next steps to prepare agencies going forward, according to the survey.
Helping Agencies Along the 5G Journey
Federal agencies are looking to upgrade their network infrastructures to prepare for 5G wireless technology to meet the connectivity demands of a mobile, and in many cases, remote workforce. At the same time, agency managers are seeing mission-critical needs for transferring massive amounts of data with low latency to support a range of applications from high-definition video to virtual and augmented reality to the situational awareness that IoT brings.
CommScope's fundamental viewpoint about 5G is that it will be a "network of networks"—a convergence of wireline and wireless with deep fiber penetration in both to support a variety of 5G use cases. Therefore, agency leaders need a partner that has extensive experience in federal IT network modernization. CommScope offers federal agencies a complete licensed and unlicensed portfolio of wireless products with the ethernet switching, cable and fiber infrastructure needed to support 5G, private LTE and Wi-Fi 6.
To download the GBC Flash Poll report, click here.