In this blog, we'll discuss one of the best ways you can prepare your IT/OT network to adapt to the changes that are coming. But first, let's rewind the clock a few years.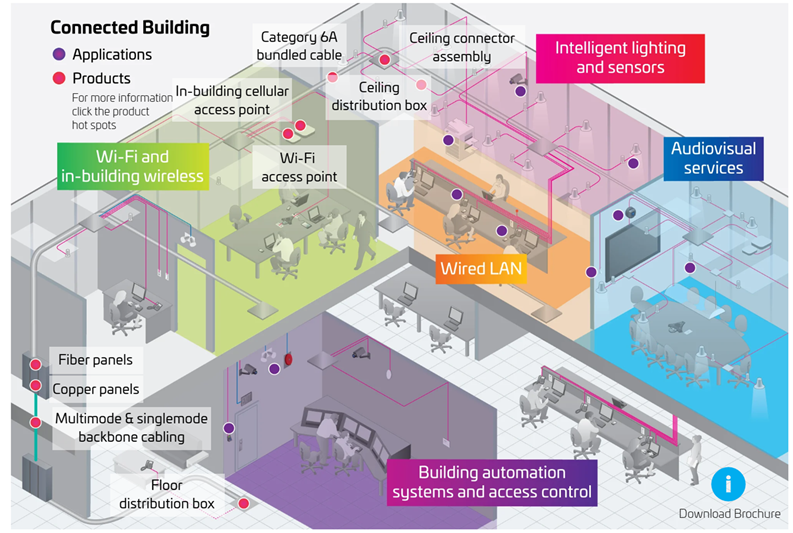 Ethernet cabling struggles to keep up with enterprise applications
As early as 2004, the long-awaited vision of the smart building/smart campus had begun to take shape. Deployment of building automation, information and control systems was increasing significantly - the same with intelligent lighting, in-building DAS and campus-wide connectivity. Walmart and the U.S. Department of Defense became the first large organizations to embrace RFID inventory tracking, officially ushering in the era of the Internet of Things (IoT).
The net effect of this connectivity revolution in the enterprise space was two-fold. First, it opened the door to unprecedented operational efficiencies across the enterprise. Secondly, it forced IT and OT network managers to confront the limitations of their existing physical layer infrastructure, which was based primarily on older Cat 5/5e and Cat 6 cabling.
Cat 5e was introduced in 2001 and offered improved crosstalk performance compared to Cat 5. This significant development enabled networks to support gigabit speeds for the first time. A year later, in June 2002, the TIA approved a new standard, designating Cat 6, which reduced noise and crosstalk even further. The result was a then-dramatic improvement in performance, allowing IT and OT managers to support 10 Gb/s—but only up to 35 meters.
As enterprise networks continued to expand their footprint, the distance limitations of the existing Cat 5/5e/6 cabling grew more problematic. At the same time, data and power requirements of connected systems and devices were also increasing. It was becoming increasingly important for networks to escape the confines of their Cat5 and Cat6 cabling. The next step in the evolution of networking was evident: 10 Gigabit Ethernet with the performance to run extended distances.
Cat 6A: Ahead of its time by design
The search for next-gen Ethernet was on, led by the IEEE 802.3an 10GBASE-T Task Force. They began by tackling fundamental issues like return loss, crosstalk and Alien crosstalk, which paved the way for minimum cabling channel specifications for 10GBASE-T. The result was a new class of cabling, Class EA, which soon adopted the moniker "Augmented" Category 6", a.k.a. Cat 6A. In 2009, IEEE—along with ISO and TIA­—formally standardized the new class, recommending it as the preferred cabling solution for modern greenfield enterprise networks. While the industry standardized Cat 6A in 2009, the cable type had been introduced five years earlier with the rollout of CommScope's SYSTIMAX® GigaSPEED® X10D.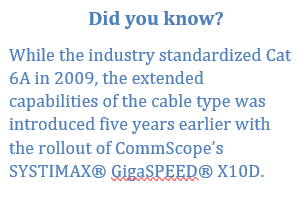 Judging by the growth curve in Figure 2, Cat 6A was several years ahead of its time; this was deliberate, as the goal was to enable long-term network support. This can be seen, for example, in Cat 6A's ability to support multiple generations of higher-power Power over Ethernet (PoE) standards.
Not only does Cat 6A support 10Gbps speeds, but it also expands the ability to deploy higher power and bandwidth anywhere within reach of the 100m maximum channel length. For the first time, connected devices can be located anywhere within reach of a PoE switch—not an AC outlet.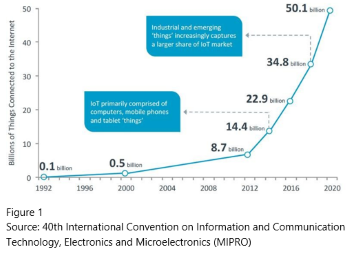 Today, the strategy behind Cat 6A's development is proving prescient. The enterprise network has become a hyperconnected environment in which devices and systems are migrating toward the edge, further from the network core and closer to where data and functionalities are being generated and leveraged.
Almost two decades after the initial launch of CommScope's SYSTIMAX® GigaSPEED® X10D, Cat 6A is the only Ethernet cabling category to exhibit sustained market growth since its introduction. There are many good reasons for this. For one, 10GBASE-T provides improved price-performance and lower power consumption. Dramatic improvements to 10GBASE-T over the last few years result in significantly lower overall price and power efficiency per gigabit than 1000BASE-T.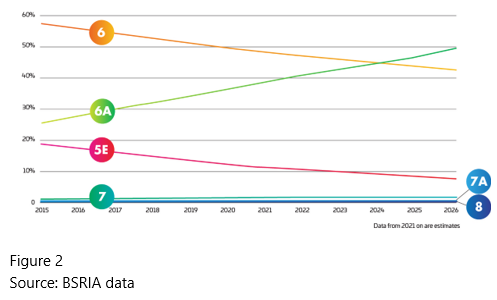 Speaking of power, Cat 6A is hitting its stride at the same time the PoE standards are effectively doubling the amount of power that can be delivered to connected devices. The latest PoE standard– IEEE 802.3bt –was finally ratified and approved in September 2018. It uses all four pairs in the cable to support 100W of Power over Ethernet, enough to operate the newest and most power-hungry devices.
However, the expanded power enabled by IEEE 802.3bt carries a thermal premium in the form of the heat build-up in the cable bundle. Category 6A offers enhanced thermal dissipation performance over its Category 5e and Category 6 predecessors. As a result, it is the recommended cabling for PoE++.
Enabling new, more powerful network applications
Not surprisingly, the technology's growth parallels the development of more demanding enterprise applications (bandwidth- and power-hungry requirements).
Here are just a few:
Wi-Fi 6/6E: While Cat 5e and Cat 6 cabling could support early Wi-Fi 6 deployments with 2.5GBASE-T or 5GBASE-T, this is not expected to be the case in the future. Today's 802.11ax (aka Wi-Fi 6) access points allow a maximum speed of 6.77 Gbps, requiring a 10GBASE-T connection to support the highest possible data rate. TSB-162-A, Telecommunications Cabling Guidelines for Wireless Access Points, also recommends running at least Category 6A or higher cabling to all wireless access points.
High-Performance Computing: Many industry sectors now utilize high-performance computing platforms to support highly bandwidth-intensive applications such as streaming video, medical imaging, centralized applications, high-end graphics, visualization technologies, and data clustering. Cat 6A's expanded data capacity will be key to enabling these capabilities.
Storage Area Networks (SAN)/Network Attached Storage (NAS): 10-Gigabit Ethernet enables cost-effective, high-speed infrastructure for both network-attached storage (NAS) and storage area networks (SAN). 10 Gigabit Ethernet can offer equivalent or superior data-carrying capacity at latencies similar to many other storage networking technologies, including Fiber Channel, ATM OC-3, OC-12 and OC-192, and InfiniBand.
Multi-Site Collaboration: Collaboration tools are emerging that enable conference participants to write or draw on a blank slide, connect to a Web site, and engage in private communication with the conferencing host or any other participants. These collaborative tools will increasingly require more bandwidth, and 10 Gigabit Ethernet connections will be the primary link for enabling multi-site collaboration within an enterprise.
Grid Computing: Grid computing makes "spare" desktop CPU horsepower available across the network to large jobs that require it. Grid computing effectively provides the horsepower "across the network" to support such applications. This demands high-speed connections among participating compute platforms, making Cat 6A the logical Ethernet choice.
Looking towards a more resilient, future-ready enterprise network
Looking back on the 18-year history of Cat 6A cabling, we see that it has enabled the development and deployment of many bandwidth-hungry applications that today's enterprises cannot do without. And it is not finished yet – it remains the recommended infrastructure for modern new-builds and promises to remain relevant for many years to come. Proof of its success can be seen in the sales volume that continues to grow, almost two decades after the initial draft of the standard.
While you may never be able to completely future-proof your enterprise network, you can ensure it is future-ready. To learn more about how CommScope's SYSTIMAX®, Uniprise® and NETCONNECT® Cat 6A portfolios can help you build a more resilient and adaptable network, check out our Category 6A Resource Page.