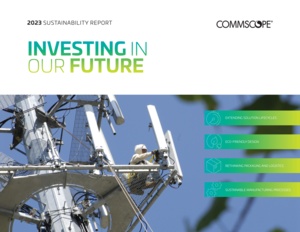 CommScope just released its 2023 Sustainability Report, and I'd like to share highlights of the great work we did in 2022 in driving sustainability actions across our business.
In 2022, we remained focused on the importance of our global responsibility to people, society at large and the environment we all share. We innovated more sustainable product designs, further decarbonized our operations, and prioritized diversity and community initiatives.
We're proud of our sustainability achievements so far, but we always aim for more. Our 2023 Sustainability Report provides many details of our environmental, social, and governance (ESG) progress we made during the past year. In it, you'll find many compelling facts and figures about CommScope's ESG initiatives and programs. You can also see an interactive version and infographic for a more consolidated look at our performance.
As in previous years, customers, investors and industry have recognized CommScope's efforts and sustainability leadership. CommScope was:
Recognized by Investor's Business Daily as one of the Best ESG Companies in 2022,
Named one of Mexico's Best Employers 2022 by Forbes,
Achieved EcoVadis "Gold" CSR rating for the sixth consecutive year,
Awarded ESG rating of AA by Morgan Stanley Capital International (MSCI),
And upgraded to "Prime" status by Institutional Shareholder Services (ISS) ESG, awarded to businesses that fulfil ambitious absolute ESG performance requirements.
You can read in more detail in our 2023 report, about how CommScope continues to reduce the environmental impact of its operations. We cut our greenhouse gas emissions (Scope 1 and 2) by 22.2 percent compared to our 2019 baseline and 12.5 percent of purchased electricity originated from renewable sources. Last year, we diverted 82.8 percent of non-hazardous waste and e-waste from landfill.
We continued to grow our Diversity & Inclusion Business Network (DIBN) to foster a dynamic and inclusive workplace that embraces our diverse people and experiences. CommScope joined the CEO Action for Diversity & Inclusion™, the largest CEO-driven business commitment for advancing diversity and inclusion within the workplace.
We're proud of CommScope's significant standing in some of the world's most vital and dynamic industries. Through responsible corporate practices and technology innovation, we are advancing our industry while creating a more sustainable future.
Keep watching this blog for more details about corporate responsibility and sustainability as we move through 2023. We welcome your feedback, thoughts, or questions by emailing us at sustainability@commscope.com.