How smart buildings can power a sustainable future
Smart and sustainable: building the future with enhanced experiences and green benefits
Buildings account for 30% of global energy consumption and 28% of energy-related carbon emissions1. To meet the Paris Agreement on climate change targets, the building sector must be net zero carbon by 2050, with all new buildings net zero by 2030. Today, only around 1% of the world's buildings are considered net zero2. The race is on to make spaces smarter, more sustainable places.
As Paris Agreement obligations creep closer, building managers, construction companies and property developers face growing pressure to meet net zero targets. Research has found3 that 70% of organizations are either very or extremely likely to have one or more facilities that are nearly zero, net zero or positive energy or carbon status in the next 10 years - an increase of 7% on 2019. It is a step in the right direction, but more needs to be done. And technology can play a key role in helping reducing the emissions from operational use.
What is net zero?
For new buildings and major renovations, net zero can be achieved when the amount of carbon emissions from construction is balanced with carbon-offset schemes. An objective here is to reduce the carbon emissions of the products used, the supply chains, and the construction to make offset more achievable4.
A second aspect is within operations: a net zero building needs to be highly-energy efficient, and powered by onsite or offsite renewables. Any excess of emissions should be balanced by an offset scheme.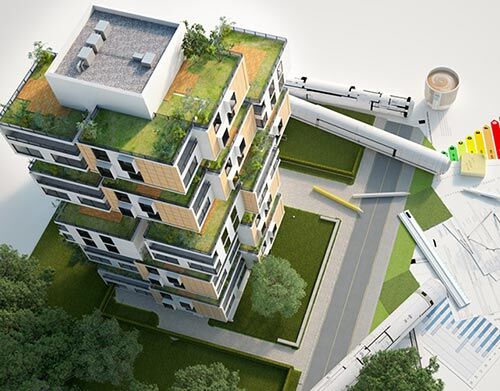 Evolution of smart building
Early designs of smart buildings focused on deploying efficient infrastructure and facilities management. They then moved onto using digital technology for efficient space utilization, room scheduling, access control and geolocation. Today's generation of smart buildings has evolved and utilizes fixed, wireless and cellular connectivity to give building tenants and visitors an enhanced experience. Running on these networks can be and array of IoT sensors, smart HVAC, biometric security controls and water management systems.
The role of smart tech in making sustainable spaces
Central to driving sustainability in smart buildings is access to accurate, real-time energy consumption data. You are better equipped to take action if you know how, where, and when energy is used in your buildings or facilities. Sensors deployed in buildings, enabled by the latest wired and wireless network infrastructure, can power that data-gathering and be used to transform buildings into greener, more sustainable spaces.
Incentives abound
In addition to being the right thing to do ethically and morally, net zero makes business sense. Consumers have grown to expect the companies they buy from to be committed to sustainability; three-quarters of Millennials say they are changing purchasing habits to reduce their impact on the environment5. Furthermore, 54% of Generation Z and 50% of Millennial consumers say they're prepared to pay an extra 10% or more for sustainable products6. It shows a change in priorities. This is also the next generation of property owners and facilities managers: they will demand that any building they live or work in be a smart, sustainable space.
Connectivity: the fourth utility powering sustainability
Research has found7 that over half of organizations plan to increase their investments in renewable energy, energy efficiency and smart building technology in 2021. It's a cultural shift that will require using digital tools to drive innovative and sustainable infrastructure solutions that make more efficient use of data, energy, space, budgets, and time. And it can only be built on ubiquitous, high-performance, reliable connectivity – the fourth utility that will power smart cities, campuses and buildings.
Pervasive connectivity will drive the uptake of connected objects and systems, supported by edge computing, where processing and analytics are carried out at the device's location in your smart space. We see a future where network convergence powers integration between real estate, IT and building management and facilities applications into one single, simplified network infrastructure.
This is an infrastructure that can support diverse applications including Wi-Fi, in-building cellular, smart lighting and sensors, security and access control and building automation. All of which can be combined to help you drive net zero goals and sustainability from your smart buildings.
Smart spaces: the Fact File
All you need to know about making spaces smarter with state of the art infrastructure.
Read