ARRIS® Announces Additional Deployments of ME-7000 Converged Compression Platform
Antietam Broadband and Sogetel join nearly 30 operators around the world in selecting the ME-7000 for advanced video services and a lower total cost of ownership
Antietam partnered with ARRIS Global Services to deploy the platform
SUWANEE, Ga., April 9, 2018 /PRNewswire/ -- ARRIS International plc (NASDAQ: ARRS) today announced that Antietam Broadband in the U.S. and Sogetel in Canada have deployed its ME-7000 Converged Compression Platform to deliver an incredible range of high quality content to subscribers while lowering total cost of ownership.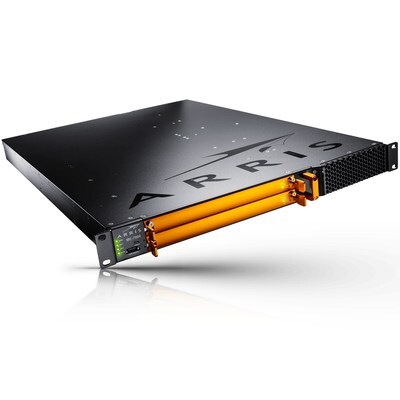 The two companies join nearly 30 operators around the world who have selected the ME-7000.  With the ME-7000, ARRIS can help operators achieve leading video compression efficiency in delivering 4K and HDR video as well as advertising splicing and multiplexing through the platform's new HEVC module.  Additionally, Antietam partnered with ARRIS Global Services to deploy the ME-7000 into their network.  ARRIS Global Services works hand in hand with the world's leading operators to design, implement, and operate next-generation services.
"ARRIS is uniquely positioned to deliver the next-generation of video compression and multiplexing technologies," said Gary Picard, SVP and General Manager, Video Systems, ARRIS. "Our team's unmatched expertise in complex deployments combined with the ME-7000's versatility and class-leading density, is helping operators around the world deliver advanced video services.  We're able to offer IPTV, cable, satellite and OTT operators unrivaled total cost of ownership and next-generation features."
Visit ARRIS at the NAB Show in the Las Vegas Convention Center (Booth #SU2615) for a demonstration of the ME-7000, including its new HEVC module supporting 4K and HDR.
Customer Quotes
"The ARRIS ME-7000 enabled us to achieve new efficiencies in delivering today's advanced TV services, while providing the framework to scale to tomorrow's 4K and HDR services with additional ad splicing and multiplexing capabilities," said Tom Williams, Vice President, Engineering and Technology, Antietam Broadband.
"We deployed the ARRIS ME-7000 to give our subscribers the highest-quality video services, while creating a pathway to delivering tomorrow's advanced TV experiences," said Isis Thiago De Souza, Vice President, Technical Services, Sogetel. "The platform's efficiency, flexibility and upgradability will help us realize new energy savings immediately and well into the future."
About ARRIS Global Services
ARRIS Global Services helps customers plan, design, implement and operate their networks and business processes. Services include installation of network elements; operational, technology and strategic consulting; staff augmentation; strategic outsourcing; and defining and integrating complex, multi-vendor solutions.
About ARRIS 
ARRIS International plc (NASDAQ: ARRS) is powering a smart, connected world. The company's leading hardware, software and services transform the way that people and businesses stay informed, entertained and connected. For more information, visit www.arris.com.
For the latest ARRIS news:
ARRIS and the ARRIS Logo are trademarks of ARRIS Enterprises LLC.  All other trademarks are the property of their respective owners.  © 2018 ARRIS Enterprises LLC. All rights reserved.  

View original content with multimedia:http://www.prnewswire.com/news-releases/arris-announces-additional-deployments-of-me-7000-converged-compression-platform-300626383.html
SOURCE ARRIS
Kalia Farrell, +1-215-323-1059, Kalia.Farrell@arris.com