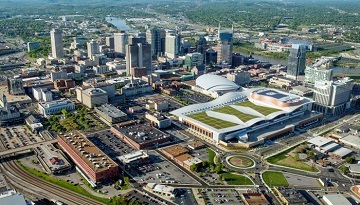 While 5G networks continue to be a major topic in the network communications industry, there are still many questions around how 5G will be achieved. Digital usage trends—such as 220 million connected vehicles on the road by 2020 and videos accounting for 82 percent of internet traffic by 2021—all point to the need for faster and more converged networks, but there is still uncertainty around how these networks will actually be achieved.
CLICK TO TWEET: CommScope's Jessica Epley explains how successful 5G implementation will certainly depend on network densification.
One of the primary ways 5G network technology will be accomplished is through network densification. While densification will be imperative to 5G network success, there are questions around what network densification is, why it is important, and how network operators will implement this strategy. Find out more about this topic in our frequently asked questions and short video below.
What is network densification?
Successful 5G implementation will certainly depend on network densification, which is increasing available network capacity through adding more cell sites including radio access networks, macro sites, in-building wireless and small cell deployments. The optimal locations for network densification will be near urban areas and large venues where there are higher numbers of digital users. For a comprehensive definition of network densification, check out our densification definitions blog.
Why is network densification important for 5G success?
Network densification is important for 5G as digital users continue to demand faster speeds and higher connectivity. Networks must be able to deliver speeds 10 times faster than 4G while maintaining optimal connectivity. As digital services evolve, such as remote surgeries and autonomous cars, these offerings will ultimately rely on higher connectivity and faster speeds that 5G networks will provide.
What are some ways to achieve network densification?
Some of the primary ways to achieve network densification include increasing the number of antennas and small cell sites as well as upgrading to sector-splitting and massive multiple input/multiple output (MIMO) technologies. Visit our 5G densification web page to learn more about how to achieve network densification.
In the video below, Kevin Linehan shares more about why network densification is important to the future of 5G networks.