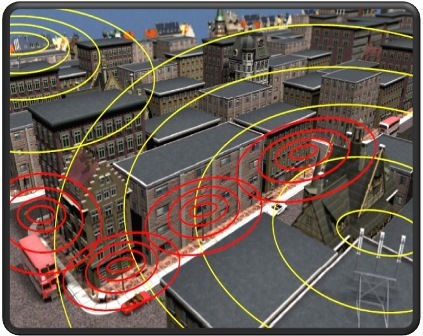 This blog post is part of a series called "CommScope Definitions" in which we will explain common terms in communications network infrastructure.
Network densification is a term commonly heard in the wireless industry. Thanks to smartphones and tablets, wireless subscribers are using more network resources than ever before—and that amount of consumption continues to rise. Operators need to add more capacity to their networks to continue handling all the traffic while providing the network speeds those users expect. Network densification is a means for doing so.
Three primary ways of adding capacity exist: buying more spectrum, making that spectrum more efficient, and 'densifying' the network. Network densification is the latter option and basically means adding more cell sites to increase the amount of available capacity. Cell sites, strategically placed in capacity-strained areas, add more capacity where it is most needed and also help offload traffic from surrounding sites. Urban areas and large public venues are primary candidates for network densification because of the high concentration of mobile users.
Increased density also appears as a term in the data center and enterprise industries, but for a somewhat different reason. Real estate is expensive, so IT managers want to pack the most bandwidth into each rack as possible. This can be challenging as users consume more and more network resources. Increased density in the enterprise is about increasing the available resources without having to acquire more rack space.
Higher data rates, wide band multimode fiber options, along with newer structured cabling solutions such as ultra high density fiber shelves and optical distribution frame racks are a means of achieving this densification. These new concepts maximize cable and cord density as well as bandwidth per rack space, enabling data center managers to achieve higher densities than previously possible. With such solutions, IT managers can accommodate ever increasing bandwidth and densities, better utilizing existing space. Automated infrastructure management systems, integrated with ultra-high density fiber systems, helps ensure full documentation of the physical layer in this challenging environment.
Densification in either industry is about putting more network resources in the same amount of space. The driver is increased consumption by users—whether on a wireless network or in an enterprise. Densification is ultimately a means of delivering more of the high-quality, high-speed services that users demand.
Key Takeaway: Network densification is a way for wireless operators to add more capacity to their networks by adding more cell sites. Increasing density in the data center and enterprise industries is about increasing the available resources without having to acquire more rack space.
Related Resources: