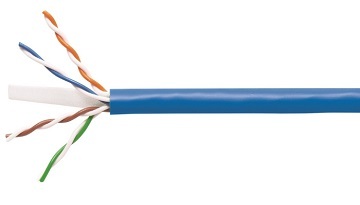 This blog post is part of a series called "CommScope Definitions" in which we will explain common terms in communications network infrastructure.
Whether it's distance learning in the classroom, a video conference held in the boardroom, or a digital signage in the cafeteria, enterprise businesses are deploying audiovisual (AV) systems that run on structured cabling.
Before traditional AV transitioned to AV over Internet Protocol (IP) more than a decade ago, it was difficult and expensive to install high-quality content more than a few meters or feet.
CLICK TO TWEET: HDBaseT is shaping the future of digital connectivity. CommScope's Ashok Srinivasan explains the history of the global standard in this blog.
To address the issue, the HDBaseT Alliance, which has 200 members today, created HDBaseT, a global standard for the transmission of ultra-high definition video and audio, Ethernet, controls, USB and up to 100 watts (W) of power over a single cable, for up to 100 meters or 328 feet. The ability to transmit power over HDBaseT also eliminates the need for separate electrical cables and outlets near all devices.
In addition to using a standard RJ45 connector and balanced twisted pair cabling, HDBaseT supports five different specifications. 5Play™ is a term created by HDBaseT Alliance to represent the five features supported over twisted pair cabling:
Uncompressed HD video (HD, 3D and 2K/4K)
HD audio (Dolby Digital, DTS, Dolby TrueHD and DTS HD-Master Audio)
100BaseT Ethernet
Control channel (RS-232, infrared, or USB device)
Up to 100 watts of power
Looking toward future networks
Today, cables such as Radio Corporation of America (RCA) , VGA/DVI AV, Digital Video Interface (DVI), Coaxial AV, and HDMI AV Cable are being replaced by twisted pair cabling.
In doing so, AV joins the host of other enterprise applications such as WiFi, low-voltage LED lighting, in-building wireless, IP security and access control and many more that run on the same common infrastructure - twisted pair cabling. Other advantages include:
Longer distance
Lower installed cost
Global standardization
Simplified management
Reduced installation time
CommScope supports the design and cabling for HDBaseT, including the following examples:
Design Architecture -Universal Connectivity Grid
Universal Connectivity Grid (UCG), the latest evolution to horizontal zone cabling, enables buildings to provide easy connections to the core network. The UCG helps streamline workstation moves, adds, changes and upgrades.
Category 6A Cabling
CommScope's GigaSPEED X10D (Category 6A cabling) channels up to lengths of 100 meters and is certified as compliant to HDBaseT Class A specifications defined by the HDBaseT Alliance. Both UTP and F/UTP cabling solutions are tested and have passed the HDBaseT 100-meter channel requirements with high headroom, covered by an application assurance warranty.
Remote Powering
HDBaseT equipment join a long list of enterprise devices that take advantage of a single structured cabling link for power and communications. Design guidelines assist in the planning of cable bundles supporting remote powered devices.
HDBaseT has many applications. The technology can be found in homes, corporations, stadiums, universities, underwater, and will one day be part of connected cars. HDBaseT can be credited with improving quality, adding distance, minimizing cable and equipment clutter, and enabling interoperability.