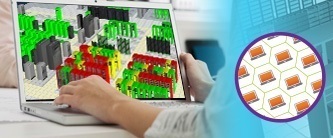 This blog post is part of a series called "CommScope Definitions" in which we will explain common terms in communications network infrastructure.
The time span between the emergence of new generations of technology is growing shorter and this phenomenon is especially apparent within the data center. Most data centers started as connectivity technology housed in wiring closets, then quickly started requiring entire floors. Today, many data centers are in their own buildings comprised of hundreds of thousands of square feet housing hundreds of millions of dollars in IT and facilities investments.
As data centers grow exponentially in scope and complexity, one of the technologies to emerge is data center infrastructure management (DCIM).
DCIM is a software-based management tool that provides a comprehensive view of the various physical systems and assets in the data center, including information technology equipment and systems, and the facilities and utilities that support them. IT devices can include servers, storage and network switches. The facilities equipment monitored by DCIM might include assets such as power distribution units and computer room air conditioning.
The goal of DCIM is to provide comprehensive visibility into – and command-and-control over ­– the entire physical ecosystem sitting in the data center. Its purpose is to help data center owners, operators, and users:
gain a better understanding of what is going on within the data center.
leverage the right information at the right time to make better decisions for growth, management and optimization of data center equipment.
For example, a data center manager can use a DCIM tool to determine whether there are servers that might be underutilized. This information can help users understand whether other applications can be virtualized onto these machines to free up servers or perhaps permit decommissioning of unused equipment for cost savings. DCIM can even help identify equipment that is consuming too much energy which, in turn, can help determine a better strategy to reduce energy consumption and costs.
These are only a couple of examples of how DCIM can help data center managers improve efficiency, reduce operating expenses, defer capital expenses and make better decisions for long-range planning. To learn more, be sure to check out the "Related Resources" links below.
So what's the next amazing breakthrough in data center technology and how quickly will we see it? It's impossible to know exactly, but you can be sure that DCIM will play an important part in data center evolution.
Related Resources:
CommScope iTRACS Evaluation from Gartner
iTRACS Asset Tracking and Management Demo