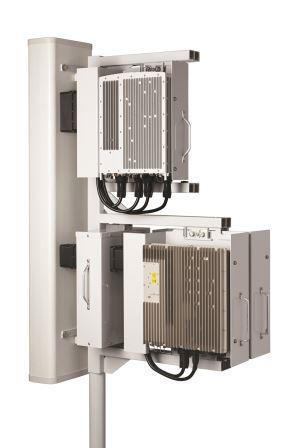 This blog post is part of a series called "CommScope Definitions" in which we will explain common terms in communications network infrastructure.
When we pass a cellular tower, we often see a small structure at the tower's base. These six-foot tall climate controlled shelters house the base transceiver station (BTS) equipment that enables wireless communication between the mobile user and cellular network. Long runs of coaxial cable connect the BTS on the ground to antennas on the top of the tower. For decades this architecture remained unchanged. However, as cost and efficiency started becoming increasingly important to wireless operators, it was time for an alternative.
An alternative solution is a distributed base station, in which the majority of the base station equipment is no longer located in the shelter, but in an enclosure at the top of the tower near the antennas. This separate but integrated radio frequency (RF) unit is called a remote radio unit or remote radio head. It is compact in size; generally no larger than two feet by one foot by six inches.
The remote radio head is connected to the main, digital portion of the base station via a fiber optic link. This helps reduce the coaxial feed line losses, increase system efficiency, and provide a high level of flexibility in cell site construction. While remote radio heads offer unique advantages, they also come with complexity due to the sheer number of components that are required to build the unit.
Given that remote radio heads are installed at the top of the tower in very harsh environmental conditions, withstanding the weather is an important challenge. Ensuring optimal performance is also critical, as access to the tower top is harder and more costly if repair or replacement work needs to be done.
Key Takeaway: The wireless industry has increasingly moved to a distributed base station architecture with remote radio heads because of their better performance and overall cost savings, which are needed for 4G LTE network speeds and satisfying today's mobile users.