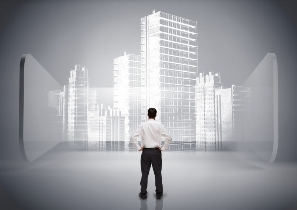 This blog post is part of a series called "CommScope Definitions" in which we will explain common terms in communications network infrastructure.
The term "intelligent building" has been in use since the early 1980s and you would think that a globally accepted definition of the attributes of an intelligent building would have been established by now. Well, think again. Although several organizations have attempted to establish a universal definition, there are a multitude of definitions with different levels of detail and varying degrees of emphasis on various aspects of building intelligence.
Although there are multiple and evolving perspectives on the subject, it is becoming increasingly clear that an intelligent building is a connected and efficient building.
A connected building boasts an integrated communications infrastructure that supports wired and wireless networks and applications. It also facilitates person-to-person, person-to-machine and machine-to-machine communications within the building and with the outside world using a state of the art intelligent, flexible, wired and wireless platform. The platform supports wired LAN, Wi-Fi, in-building wireless, audio/visual, sensors, lighting and building management applications. Buildings are also becoming cloud connected as an essential part of smart grids and smart cities.
An efficient building leverages a state-of-the-art connectivity platform to address key corporate real estate, facilities and IT challenges to improve energy efficiency, space utilization and occupant satisfaction. In an efficient building, the intelligent connectivity platform is easily adaptable to changes in space design or communications technologies. A high density sensor network integrates with other building systems to provide fine-grained occupancy-based control of building systems for optimal energy use and occupant comfort while providing a real-time and historical view of occupancy patterns.
At a time when the design and utilization patterns of a building's individual and common spaces are undergoing significant changes, efficiency expectations continue to increase. This is fueled by the increase in connected devices, sensors and Building Internet of Things applications. As the definition of intelligent buildings continues to evolve, buildings are becoming increasingly connected and efficient.
Do you feel that connectivity and efficiency are essential to validating an intelligent building? Leave a comment below and I'll be sure to respond.
Related Resources:
Your Smart Building Requires an Intelligent Infrastructure
Building Infrastructure Cabling
Automated Infrastructure Management for Intelligent Buildings
Video: GitHub Hacks Their Own Office with CommScope Redwood Technology
Video: Unified Wireless Infrastructure "Next Generation In-building Wireless Solution