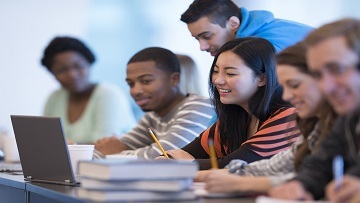 It has been interesting to see what CommScope experts think about trends in certain networking market sectors for 2018. If you haven't see them, then let me share some highlights with you:
When reading them, however, I was struck by another trend in society that is a huge driver in each of those networking areas—social media.
Use of social media literally has changed the world. From mundane communicating and information gathering to spreading political ideas and discourse, it has changed the way our society and culture function. This will only increase because of younger generations.
There are two groups that see social media and mobility as vital to their everyday lives—Millennials and Generation Z (Gen Z).
Here is some background CommScope has on Millennials based on global research:
Two-thirds use social media as their major form of social communication
Millennials spend more than 2.5 times as many hours per day receiving social media messages than Baby Boomers
When talking about Gen Zers, those numbers increase. Considered the "always on" generation, recent research by CommScope found:
96 percent own a smartphone
70 percent check their phones more than 30 times an hour
More than half create content they share with others
CLICK TO TWEET: CommScope's Joseph Depa explains that service providers must make sure their networks can handle the increased data generated by Millennials and Gen Zers.
Social platforms are the most commonly used method to share content by Gen Zers; however, 30 percent post content on their own websites.
Not many think about it, but as both groups get older, the data created from their devices will continue to put a strain on network infrastructure. Moving content to the edge will prove an invaluable differentiator in overall service quality. More agile networks designed to enable service models to scale usage and costs will also have a decided advantage over today's fixed traditional providers.
Gen Zers don't even recognize how their content is passed through the network. Research reveals that they see the cloud as essential, yet it's a benefit that they do not attribute to a source or brand. Technology is essentially an indistinguishable part of Gen Z identity and daily life.
Millennials and Gen Zers do not care about the technical details of how network technology enables them to experience ultra-fast-anywhere connectivity. What they care about is the quality, reliability and flexibility of their service. The advantage of a converged wired and wireless network architecture will likely give network providers—many of whom are expanding by acquiring content providers—the freedom and flexibility to affordably tailor a wide variety of services to customers.
Service providers must keep up with the data demands. The need to support these higher speeds has a large impact on the physical layer infrastructure. A shift to higher speed requires better optics and better physical link performance. Therefore, for the first time, singlemode optics are starting to be deployed within a data center. It is because the increased size of some of the cloud operators—link lengths cannot be supported at the required speeds with multimode optics. Singlemode is being perceived as the inevitable future for optic networks as speeds continue to climb.
The future of the wireless mobile networks market will be driven in part by the continuation of current capacity growth trends. But it is the industry's migration to 5G—expected to be standardized this year and initially deployed in 2020—that will have the greatest impact on the future.
At its essence, 5G is a "network of networks"—a convergence of wireline and wireless with deep fiber penetration in both. The road to 5G is marked by the evolution of wireless networks to centralized RAN and ultimately to cloud RAN, which will enable cell virtualization. Cell virtualization will enable operators to manage multiple radio points within the footprint of a single cell, eliminating intercell interference while providing high capacity. The move to 5G is the foundation of everything wireless operators should deal with in the coming years.
Technology is essentially an indistinguishable part of both Gen Z and Millennials lives. It gives them comfort, purpose and focus. As both groups continue to get older, their reliance on connectivity will continue to increase as well. No matter what happens, service providers will need to make sure their networks can handle the increased data generated by these connected groups.
Related content: