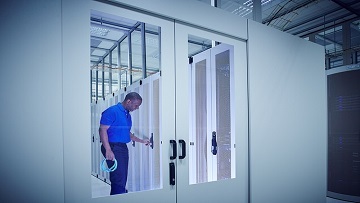 (Note: The following has been submitted as a guest post to CommScope Blogs by John Ford, Sabey Data Centers' vice president and general manager of Intergate.Seattle. Opinions and comments provided in this guest post, as with all posts to CommScope Blogs, are that of the author and do not necessarily reflect the views of CommScope. This post was originally published on February 28, 2018. Sabey is a member of CommScope's Mutli Tenant Data Center (MTDC) Alliance, part of the PartnerPRO Network.)
Energy efficiency is the holy grail for data center owners and operators seeking low operational expense and minimal environmental impact. However, according to the Natural Resources Defense Council, data centers in the U.S. alone are projected to consume 139 billion kilowatt-hours by 2020, placing potential strain on the environment as well as facilities' bottom lines.
John Ford, Sabey Data Centers' vice president and general manager of Intergate.Seattle, recently discussed the various strategies employed at the facility to conserve energy and reduce cost. During the interview, John shared information about the history of Sabey Data Centers and its position on energy conservation and environmental responsibility, as well as how today's trends affect data center energy consumption.
Insider Perspective
Though many are quick to blame data centers for consuming excessive amounts of power, John strongly believes that they are the most energy-efficient option for data storage.
"It's an interesting paradox because there is so much data being generated, and there's an awful lot of concern about how power is being utilized to store this information. Data centers function as central repositories for the copious amounts of data produced by burgeoning industry trends such as the Internet of Things and Big Data.
While it is undisputed that these colocation facilities use a great deal of power, this approach is much more energy-efficient than dispersing data across a wide range of smaller buildings. Simply put, it is the best and most energy efficient way to store information."
CLICK TO TWEET: CommScope partner Sabey talks about the future of energy-efficient data center design.
Renewable Energy
When exploring the possibility of straining available energy resources, John says it's important to turn to renewable sources and use them in a wise and effective manner.
"There are so many renewable resources available that there's no shortage of energy, and there won't be for the foreseeable future. However, using that energy efficiently is incredibly important. It's paramount that we take care to ensure the energy we have is being used in smart and effective ways."
Luckily for Intergate.Seattle, its proximity to multiple renewable energy resources in the Pacific Northwest places it in a prime position to take advantage of "free" cooling techniques.
"In the Northwest, we are blessed with having a lot of hydro power, which is a low cost, renewable, energy alternative. However, just having the power available isn't a positive thing unless you're using it conservatively. To achieve this, we have implemented multiple energy conservation techniques and use more efficient cooling and UPS systems that run on the least amount of fuel possible."
Intergate.Seattle
Sabey has always approached data center power consumption from a place of innovation and environmental responsibility.
"Our construction company started out building pretty unique facilities ever since the 1970s, and Dave and John Sabey have always looked for new ways to build infrastructure that is more efficient and has less of an impact on the environment. Sabey Data Centers also pioneered cooling research in the early 2000s as the industry discovered that many facilities were in fact being over cooled utilizing inefficient methods. By developing and implementing new cooling techniques that use thermodynamics to their advantage, we maintained the design philosophy of keeping it simple."
Intergate.Seattle is the largest, privately-owned multi-tenant data center complex on the West Coast and Sabey Data Centers' flagship data center property. The facility comprises two campuses, eight buildings and more than 1.3 million square-feet of data center space.
As the industry continues to develop and utilize more innovative technologies and techniques that improve the energy efficiency of data center facilities, the future is looking bright.
"This really is an exciting time to be involved in the data center industry. I look forward to seeing what the future will hold as new trends and technologies emerge."