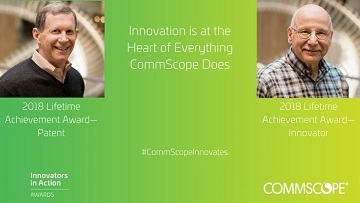 Without innovation, there would be no CommScope. Innovation drives us, the industries we serve and how we communicate.
Innovation comes from our people. They are constantly thinking about new solutions and looking to improve technology. Our people and technology separates us from others in the industry.
CLICK TO TWEET: In this blog, CommScope explains how innovation is at the heart of everything it does.
We always want to foster new innovations, and that's why we held our second Innovators in Action Summit in Charlotte, N.C. More than 75 of our global colleagues came together to present their latest innovations, discuss future trends and celebrate our success. In fact, we recognized more than 50 team members representing 36 award-winning engineering and technology projects from 2017 that demonstrate the company's best agility, breakthrough, cost reduction, and customer impact innovations.
This year, we presented two new awards:
2018 Lifetime Achievement Award—Patent
2018 Lifetime Achievement Award—Innovator
The 2018 Lifetime Achievement Award—Patent was given to U.S. Patent Number 7,298,233: "Panel Antenna with Variable Phase Shifter" by inventor Dr. Martin Zimmerman. Zimmerman accepted the award for this patent granted in November 2007. His smaller, less expensive, and more reliable concept allows most of the base station antennas designed at CommScope since 2005 to use some variant of this design. It represents tens of millions of phase shifters and has significantly added to CommScope's bottom line.
In this video, Zimmerman discusses what innovation means to him and how his patents are being used in the industry today.
The 2018 Lifetime Achievement Award—Innovator was presented to Amid Hashim. This award recognizes individuals who are distinguished by the depth and consistency of their technical contributions throughout their careers at CommScope.
With 40-plus years of experience working in the telecommunications industry, Hashim has spent nearly half of his professional career working for CommScope. With almost 70 U.S. patents to his name, Hashim's ideas have enabled CommScope to be the first to market with several solutions for enterprise networking applications. Most notably, he is one of the inventors on a multi-stage electrical compensation technology patent, which is so effective that CommScope licenses it to other companies.
In this video, Hashim talks about his years with CommScope and how the world of technology relies on his innovations.
From everyone at CommScope, congratulations to Zimmerman and Hashim on these fantastic accolades.