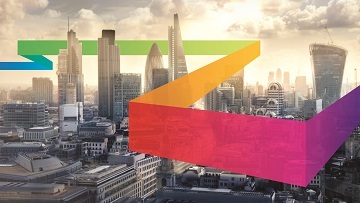 Recently my son completed his university education. Out of curiosity, I asked about his expectations for companies he'd like to work for. He responded with 'cool' and 'high tech' as ideal workplace scenarios. After several online searches on the coolest offices around the world, I realized that beyond the paycheck, a good boss and flexible working hours, the next generation is attracted to companies with technology integrated into the workplace.
CLICK TO TWEET: CommScope's Laura Chen explains that a smart building will need an intelligent network infrastructure.
A workplace for the new generation
My son's desires match those around the world who have specific expectations for their work environments, blurring the lines between home and work. They expect to have fun in the office while being digitally connected 24x7. My son and his friends have grown up with digital devices and expect seamless connectivity no matter where they are, whether it be at home, in the mall, at the gym or in an office building. This is obviously a given for employers catering to generation Z, especially as they encourage greater collaboration in trendy community spaces.
Companies must also demonstrate their commitment to environmental and social causes. Workplace sustainability might include reviewing how natural daylight impacts ambience or energy performance. For example, employees who work in The Edge Building in Amsterdam use a state-of-the-art gym which recycles their energy expenditure into the running of the building, while the Glumac building in Shanghai allows employees to monitor the toxicity of indoor and outdoor air via a mobile app.
Smart buildings enable connectivity and sustainability
A building is only as smart as the technologies and equipment powering it. The Internet of Things (IoT) is reshaping the definition of a smart building as more connected devices require high bandwidth and low latency.
Today a smart building definition has evolved from auto triggering the fire alarm when smoke is detected by the sensor; to accessing a door with the touch of your fingerprint to using big data for increased efficiency. A smart building integrates data from IT, facility and operations systems to provide one dashboard, showing all network traffic in real-time, and then analyzes the data to better understand energy usage, emissions performance and other metrics to ensure efficiency.
Driving smart building connectivity
A smart building needs more than just advanced equipment or software; it will need an intelligent network infrastructure. As buildings become smarter, power connectivity through an agile and flexible network infrastructure that can scale will be critical.
CommScope builds the connectivity for smart buildings. Find out how we can help you from our recent Smart Building Connectivity eBook.