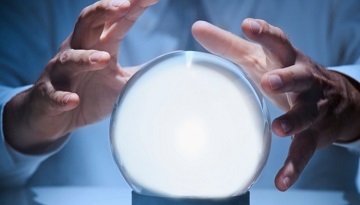 Legends and lore show us many ways to allegedly see into the future. Things like tarot cards, Ouija boards, time machines and groundhogs have been around for a long time and supposedly give us a glimpse into events that will come. I recently found another way to prognosticate on the technologies and trends that we will see in the enterprise in the coming years.
I had the privilege of speaking at Futureland 2018 in Milan, Italy. My topic was "Managing your physical layer with augmented reality." At CommScope, we believe that augmented reality (AR) will alter the world for our enterprise customers in the not too distant future. Our work in this space was well received at the conference because AR is trending in education, new employee learning and remote assistance of higher level support (i.e. Smart Hands). By leveraging new hardware and AR software, we can deliver contextual information to prevent information data conversion mistakes from the 2D world to our real 3D world that impact productivity and efficiency. In another way, when users take spreadsheet information and try to make sense of it without context, mistakes can be made. It's like turning too late or too early because you misread your navigation.
In addition to communicating our own vision for physical networks during Futureland, I also picked up on some additional trends that appear to be relevant for the future. Today, computers are bound by the physical limits of their shape and form; however, by using AR, we are allowing computers to have access to our sense of sight. Think of having "smart" contact lenses or eyeglasses. This has the possibility of unleashing computing power to a whole new level. Once our computers have similar sensing power as we do, the world will never be the same.
CLICK TO TWEET: Exciting things going on in the enterprise in the next few years. CommScope lays it all out...
Blockchain was another key topic of Futureland. Like AR, it can be misunderstood. When people hear blockchain they think cryptocurrency, but there are a lot more use cases for it. By having distributed trusted information, many industries can take advantage of blockchain. From healthcare to energy generation, blockchain will be able to change the way people share and control information.
Lastly, artificial intelligence (AI) was also a major focus of the show – allowing computers to analyze large data sets and then letting humans validate the findings so we can do more with less. AI can help doctors work with more patients and banks block more illegal transactions. In the enterprise, all this data can make our smart buildings and smart cities even smarter! Truly, the world will be a different place very soon.
I will never claim to be psychic, but it is hard not to get excited about this next wave of technology and how it will impact not only our physical network, but also how companies operate. The future looks bright for the enterprise, and it appears that there is a lot of exciting new technology in our future.