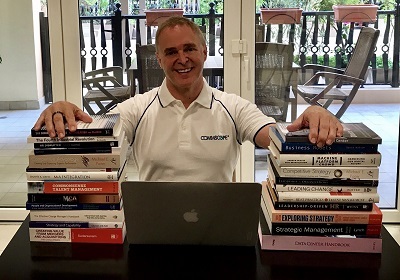 While embarking on my Masters in Data Center Leadership and Management in 2015, I entered the program with an open mind. I was armed with my robust experience and empirical knowledge of the field. Being part of the information and communications technology industry for more than 30 years, I have been a strong advocate of the importance of the physical layer in the overall network architecture. Working through this program has given me a fresh outlook on the data center and its relevance as a strategic asset for all businesses today. Truly understanding the end-user perspective and the contemporary business challenges that they face are integral factors for any vendor that wishes to become "trusted advisors." My opinion on the relevance of the physical layer has not only been reinforced, but substantially elevated.
In this dynamic and digital environment, it is fundamental to consider the communications connectivity as part of the enterprise business strategy. The ability to scale quickly and migrate to new architectures and applications is a critical factor when maintaining organizational and operational resilience. The drive toward the digital-social-mobile world is driving higher bandwidth, attenuation sensitivity, and applications that must be reflected in physical layer architecture. Having ultra-low-loss (ULL) connectivity backed by a link loss calculator – to understand the network's performance today and in the future – offers significant advantages in channel capacity planning and future network scalability options. This protects the connectivity investment, and helps a business gain and maintain a competitive advantage through agile and seamless deployment.
CLICK TO TWEET: It's fundamental to consider communications connectivity as part of an enterprise business strategy.
Reducing the complexity at the physical layer is where CommScope's customers see the real value of us being trusted advisors. The process starts by understanding the issues and the business strategy. This is not a generic approach, as we realize that all customers are different and that their needs must be aligned to the overall goals and objectives of the business. Using our vast high speed migration portfolio, based around an MPO-24 backbone technology and modular connectivity (MPO-8, MPO-12 and LC connectivity), can support business agility by allowing seamless migration to different network speeds.
Having the type of solid backbone philosophy offered by high speed migration allows CommScope's technical teams and partners to provide the optimum solution and prepare our customers for both today's and tomorrow's emerging technologies. Whether they use single mode or multimode fiber, CommScope has the solution. However, the recent introduction of a new standards based optical fiber (OM5) using short-wave division multiplexing (SWDM) transmission technology, further demonstrates the advances in multimode technology. I'm proud to state that CommScope helped lead and introduce this innovation to the industry. It is backwards compatible with legacy 50um multimode systems, and significantly reduces the proliferation of fiber by using SWDM over duplex connectivity.
CommScope also offers an application assurance program that not only provides our customers with the confidence that future applications can be supported, but also written documentation on the distance and number of connections that can be sustained. This is critical when designing a scalable infrastructure and maintaining business ready performance. All of this is backed by an industry leading applications performance warranty to further protect our customers' investment.
As I complete my Master's, I not only realize what a significant learning experience this has become, but also that the data center has never been more relevant to the success of all businesses who want to engage with their customers in a digital economy. Change is the only constant, and the infrastructure should be a strategic investment for business performance, resilience, and evolution.