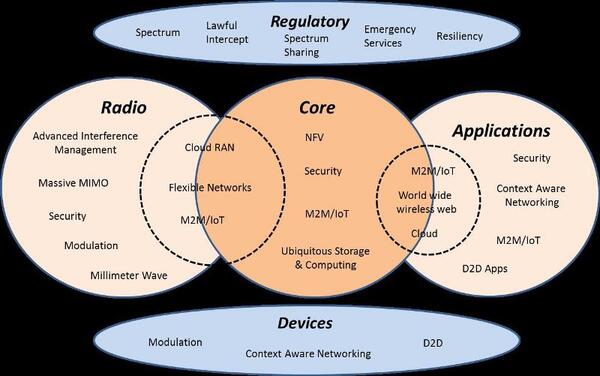 Has curiosity ever led you down a path that leads to nowhere? I'm sure many of you have been down that road, especially when it comes to the topic of 5G—the next generation of cellular technology. So what's all the publicity hype on 5G really about? We've seen a lot of PR and marketing around the progress of 5G, but rarely do you find anything of substance after the onion is peeled back a few layers. In fact, you often hear about the billions of dollars expended on research by countries wanting to get a head start on 5G development, but there's not enough "meat" around the actual 5G technology solutions.
While there is no International Telecommunications Union definition of 5G, it is certainly time to begin the planning discussion for the possibilities. Therefore, let me actually peel back the onion by introducing you to a complete, detailed "meal" (including the meat, potatoes and dessert) in the form of a new 4G Americas white paper, 4G Americas' Recommendations on 5G Requirements and Solutions, which details an Americas viewpoint on 5G.
This important white paper takes a pragmatic and detailed approach to 5G by analyzing market drivers and use cases, detailing user and network requirements of 5G, understanding needed improvements to 4G and providing concrete potential 5G solutions. The paper also will be the subject of a free FierceLIVE webinar on Tuesday, November 4. Click the link for more information and to register.
The future of mobile broadband technology will be much more than just enhancements to existing networks to make them faster and with more coverage and capacity. It will entail an expansion beyond humans to serve any entity that may benefit from being connected. It is conceivable that someday, connected things and machines will outnumber personal subscriptions. 4G Americas foresees a future with an increasingly interconnected world where voice, video, medical, entertainment and other services will be handled by an extremely integrated and automatically configurable network.
5G technology solutions explained in detail in the white paper include:
Massive MIMO
RAN Transmission at Centimeter and Millimeter Waves
New Waveforms
Shared Spectrum Access
Advanced Inter-node Coordination
Simultaneous Transmission Reception
Multi-RAT Integration and Management
Device-to-Device Communications
Efficient Small Data Transmission
Wireless Backhaul/Access Integration
Flexible Networks
Flexible Mobility
Context Aware Networking
Information Centric Networking (ICN)
Moving Networks
The above technologies could be the foundation of an end-to-end 5G system that needs to be architected to meet the expected demand in 2020 and beyond. Here's a comprehensive view to be considered in the initial planning process for 5G.
As you can see, it's definitely a hearty meal on a really full plate. With that said, it's time to pull up a chair to the dinner table to dig in to what 5G is serving up for 2020 and beyond.
The full white paper is free to download at www.4gamericas.org and will be further explained and discussed with audience interaction in the free FierceLIVE webinar featuring Kris Rinne and Brian Daly of AT&T Services as well as myself on Tuesday, November 4, 2014 from 1:00 p.m. to 2:00 p.m. EST. Click here for more information and to register.