Let's face it: we all watch a lot of TV. And sometimes (like every day) Dad needs to stream, binge, and multiscreen his way through the latest and greatest.
That's a complex set of objectives that we're not really advancing with cologne and a necktie… So this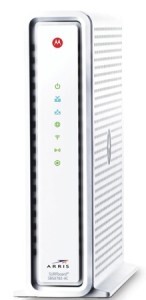 Father's Day, ARRIS has a better idea: our SURFboard® SBG6782-AC Modem & Wi-Fi® Router. It's the gift that keeps on giving.
For years to come, Dad will thank you as he streams his favorite sports and videos… without annoying buffering or dropouts. That's thanks to the latest 802.11AC Wi-Fi and a host of other technology that we stuffed into the SBG6782-AC.
And now we'll help you count the reasons why it should be at the top of your shopping list this month:
#5: The Wil Wheaton Project, now on Syfy. On the living room TV, on a tablet. In a box with a fox. Dad gets it however he wants it.
#4: The whole season of HBO's True Detective in one night? Done.
#3: Binge viewing House of Cards… from a tablet? Done and done.
#2: The NBA finals. Can Dad catch the game after work? Can he rewatch the moments he missed when he was busy multiscreening #s 2-5?
#1:NFL season. It's almost here. We're thinking ahead, which means you're thinking ahead. Pro tip: brush up on last-season's highlights before this season's kickoff.
The SURFboard helps Dad get his TV, his way. And that's good for everyone. Priceless.
The SBG6782-AC is available at Amazon, Best Buy and Target now.
Happy Father's Day to all the dads out there!