Twitter's acquisition of video-editing startup SnappyTV is broadening advertising opportunities on the second screen.
"Twitter is where television viewers come to talk about what they're watching on TV when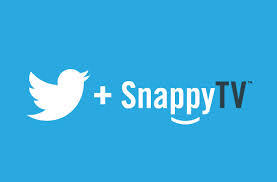 they're watching it," said Twitter's CEO, Dick Costello, in an interview last year.
As higher-quality video becomes part of the Twitter experience, the question for second-screen advertisers is how to capitalize on this change of scenery.
Sandy Howe, SVP of Global Marketing for ARRIS, offered the following insight:
"Using smartphones and tablets to accompany the TV experience is no longer a niche activity; it's the norm. ARRIS research* shows that more than half of global consumers are second-screeners and 12% are using more than two. For content providers and advertisiers, these viewers are an untapped goldmine.
36% of second-screeners used their second device to access live information about the program. Perhaps more compelling is that 30% used it to purchase products featured in the programs they watch. This engagement shows a fundamental shift in how we're self-seeking to spend money, and consequently has tremendous implications for monetising entertainment.
43% of second-screeners engage in conversations about the TV show they're watching… while they watch it, and Twitter is an important component in that experience. But more importantly, 41% of consumers find ads on their smartphone intrusive, and nearly half never click through or follow up on TV advertisement on their connected devices. In fact, 40% of consumers record content to skip over the ads! What advertisers need to consider is how to personalize and place their videos to become a relevant and welcome part of the conversation so that they can begin to monetize this opportunity."
*The ARRIS 2014 Consumer Entertainment Index, an independent study of global media consumption habits, surveying 10,500 consumers from 19 countries