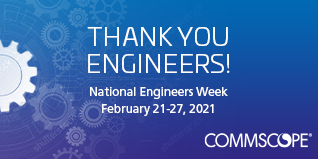 The engineering community is a primary force that drives CommScope. It's what has enabled us to be a leader in communications infrastructure and what will continue to drive us to push the technology boundaries to delight and lead our customers in the future.
This Engineering Week (Feb 21-27), we're celebrating our engineers' contributions that provide connectivity for billions of people and devices around the world. Their innovations rank among the industry's most influential and their solutions are helping the world's leading operators take steps toward a faster, lower latent, more efficient network of the future.
The past year has been particularly challenging for businesses everywhere due to COVID-19, the subsequent stay-at-home policies, and the general economic impact. But at CommScope, our diverse base of global engineers continued to make advances even in these troubling times. As a result, we've notched some incredible customer wins and partnerships—including the Remote-PHY Shelf for Comcast, our end-to-end 10G Trial for Mediacom, our partnership with Google's Area 120 for the launch of Orion Wi-Fi, fiber optic and copper cabling installation in the Allegiant Stadium (home of the Las Vegas Raiders), and our Passive-Active 5G Antenna for Nokia.
We broke new ground with the industry's first 204Mhz Digital Return and Extended-Spectrum Coax Certification. We even brought home two Emmy Awards for our technical and engineering leadership in IP video ad insertion.
Our engineers are behind each of these milestones and the many other successful projects going on throughout CommScope. Each year, we celebrate the indelible contributions made by the technical community through our peer-nominated, peer-selected "Innovators in Action" awards program. We will recognize our 2020 winners at the Innovators in Action Summit from February 23-25th.
Hats off to the engineering community here at CommScope. Your work is the cornerstone of our position in the telecommunication network, an industry which as the last year has shown is indispensable.