It's already been a year since we announced our merger with Motorola Home. Time flies when you're inventing the future.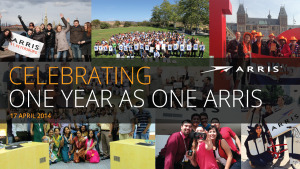 When we reflect on the past several months, we're inspired by the efficiency and integrity that defined how our companies came together and began to solve the most pressing global challenges for our customers and the industry.
In that short period of time, we…
Tripled our size
Established operations in more than 30 countries
And became a leading provider of IP video solutions
As we collaborate with our customers to deliver the next era of broadband and entertainment, we're reminded that all our progress and all our efforts come back to the people...
The people of the world's foremost service providers, who work tirelessly with us to improve tomorrow's services: from their executives in the boardroom, to their engineers in the labs, and their technicians in the field.
The people of ARRIS, who have shaped and enabled our extraordinary growth: from our senior executives, traveling the world to bring our global vision to new markets; to our engineers, creating tomorrow's communications and entertainment experiences; and our employees, delivering on that vision and promise, every day.
And the people at home: each and every consumer who lights up a device somewhere in the world with the excitement of enjoying their favorite content, their way.
These people inspire our constant journey of innovation. Together, we are collaborating to invent the future.