Soccer fans, you don't have to wait until summer for the World Cup. This week, EA Sports' "2014 FIFA World Cup Brazil™" is bringing the main event to your gaming console—connecting you to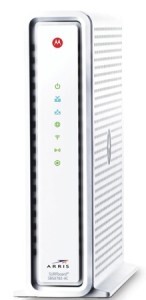 players around the world.
Online gaming is serious business! Fast-paced action means no room for lag or high latency. There is no "slow" in GOAL!
Today's high-performance, streaming, multiplayer games demand the fastest and most reliable Internet connection. Your gaming experience is only as fast as your weakest link… So if that old modem is still a part of your lineup, do yourself a favor and pick up the award-winning Motorola-ARRIS SURFboard SBG6782-AC.
Whether you're streaming or wired-in on your PS3® or Xbox 360™, you can rest assured that the SBG6782-AC DOCSIS® 3.0 Cable Modem and 802.11AC Wi-Fi® router has you covered. The fastest Ethernet and the fastest Wi-Fi give you the home field advantage when your winning play comes down to split seconds.
And with ARRIS's leading interoperability, you can trust that all of today's popular devices and services will work with your SURFboard right out of the box… just plug and play. No lengthy pairing sequences or wondering why your console won't connect.
Fast, simple Internet, and the 2014 World Cup—here, today.
Score the SBG6782-AC from Target or Best Buy today.