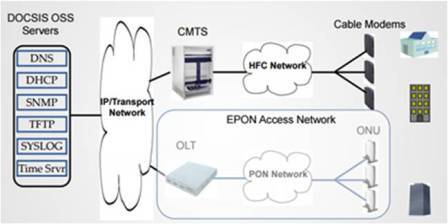 This blog post is part of a series called "CommScope Definitions" in which we will explain common terms in communications network infrastructure.
Before we get started, I want you to know this blog is loaded with acronyms, but they are all important. So, do not be discouraged if it looks like someone spilled their alphabet soup all over the screen.
The two most important acronyms I would like to begin with are:
DOCSIS—Data Over Cable Service Interface Specification.
DPoE—DOCSIS Provisioning of Ethernet Passive Optical Network (EPON)
DOCSIS deals with the way data transmits across a hybrid fiber coax (HFC) network, and DPoE deals with the way data transmits over an EPON system.
Both are sets of standards developed by Cable Television Laboratories (CableLabs®), a non-profit consortium operating since 1988. It is the research and development arm for its member companies (i.e., Altice, Comcast, Charter, Rogers, Cox and Time Warner Cable to name a few).
So, what does DPoE do? Simply put, it makes EPON Optical Line Terminals (OLTs) and Optical Network Units (ONUs) act like cable modem termination systems (CMTSs) and cable modems. It takes into account two main aspects—provisioning and interoperability.
Provisioning is the act of programming network equipment to deliver the services purchased by a customer. For example, a customer may purchase a data service that allows 100Mbps data. The cable operator has to set up the equipment to deliver 100Mbps and no more.
As shown in the picture above, DPoE involves architecture similar to how cable operators provision cable modems today.
A common misconception of DPoE is that it is DOCSIS over an all-fiber network. In DOCSIS, a CMTS interfaces with a cable modem over an HFC network. In DPoE, a virtual cable modem within the OLT interfaces to the ONU over EPON. I'm sure you will need to take a breath after reading that last sentence.
Behind the scenes is an Operations Support Systems (OSS), which facilitates an ONU provisioned with the correct services (similar to DOCSIS cable modems). With DPoE, cable operators want to use the same OSS, thus leveraging existing capital investments and general training of personnel.
An important aspect of DPoE is the CableLabs Certification Wave participation and the associated certification of vendor products. Vendors participate during the certification process to show they are compliant with the specification.
Another important goal for the CableLabs' DPoE standard is to ensure interoperability between different vendors. Interoperability in the CMTS/cable modem world is when a vendor's CMTS works with another vendor's cable modem. For example, ARRIS' CMTS working with cable modems from CommScope, Motorola and others. DPoE is a standard that defines that same kind of interoperability among vendors of EPON equipment. For example, in the case of CommScope, our ONUs work with OLTs from Alcatel Lucent (Nokia) and Sumitomo.
Similar to the DOCSIS cable model standards, we expect that DPoE standards will continue maturing as the EPON technology evolves and new services emerge. As the majority of the cable industry transitions from the HFC-based network to an all fiber-based EPON network, the previously proven model of using standards compliant equipment becomes imperative—DPoE provides this standardization.
Key Takeaway: DOCSIS Provisioning of EPON (DPoE) makes EPON Optical Line Terminals and Optical Network Units act like a cable modem termination system and cable modems. It takes into account two main aspects—provisioning and interoperability. Provisioning is the act of programming network equipment to deliver the services a customer has purchased. Interoperability is the ability for equipment from different vendors to work together.
Article was originally published on November 5, 2015