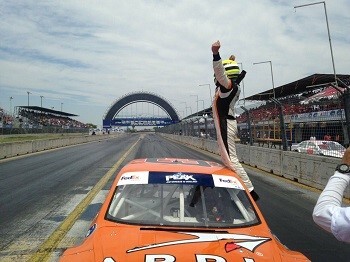 Abraham and Fabián dominated respective races last weekend.
Abraham Calderón scored a Top-10 in the rebranded NASCAR PEAK V8, coming in 9th place. He also he completed the last two laps in the V8 series with the hood wrapped over the windshield, blocking his view for most of the ride. Minutes later, Abraham raced in the Freightliner Truck Series and showed why he is the reigning champ by battling two other drivers to come in first place!
Fabián Welter Ruiz, in his first race as an ARRIS driver and in his NASCAR debut, also came in first place! The rookie driver started in second place and demonstrated his huge potential by overtaking first place in the first curve.
Congrats Abraham and Fabián!