In my role at Ruckus, I've had the opportunity to visit educational institutions far from my Silicon Valley home. It amazes me how the backdrops can be vastly different from home, yet the transition to digital learning and the challenges encountered are often quite familiar. I visited Dubai for the first time, where I met with IT teams from a top secondary school and a premier University.
Dubai College
is a secondary school in 1978, regarded as a top-ranking British system independent school with approximately 1,000 students, staff, and faculty. I met with the Director of IT Systems for a tour, and I was struck by the pride he felt  .   We saw students preparing for exams, each with their tablets or laptops, then we moved into a large, modern auditorium with Wi-Fi access for all. The highlight was our F1 racing vehicles and awards tour. The "F1 in Schools" program challenges students to use software to design, build, and race a miniature Formula 1 car. Teams of three to six students must also prepare a business plan, a marketing strategy, and deliver a presentation. This experiential learning, made possible by their network computing infrastructure, is representative of the global learning shift away from textbook-only instruction.   
This is 21st-century learning, with the trophies to prove it!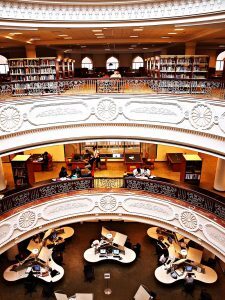 American University of Sharjah
(AUS) was founded in 1997 and is the flagship institution in University City in Sharjah . The not-for-profit, independent institution is based on the American higher education model.   The diverse university brings together more than 6,000 students, representing nearly 100 countries, of which 40% live on campus in residence halls. The architecture and beauty of the campus and its mosque was immediately captivating and  I quickly realized that it was important for AUS to deploy their wireless equipment discreetly, with little impact to these historic buildings. They are focused on ensuring a great student experience deployed 1,000 access points to residence halls, allowing them to deliver reliable wireless despite the quantity and variety of wireless devices students bring with them AUS pursues a visionary agenda, they're even investigating how to become a
'Smart Campus'
- leveraging their IT investment to provide new efficiencies to operations and services to their campus population. As a leader in
Smart Cities
initiatives, Ruckus is just the partner to help AUS achieve its vision. I now have a profound appreciation for Dubai, assured that even as Ruckus solves U.S. education technology challenges - network scaling, student data privacy and network availability for digital learning - we're also addressing global challenges. After all, our students are becoming global citizens - so Ruckus is too!
To learn more about campus Wi-Fi deployments, read our new white paper: 10 Myths About Wi-Fi in Higher Education