Every day, we have discussions around how we can improve communications and entertainment via speed, range, resolution or reliability. And every day we consider the impact of what we do on our environment. Sustainability is ingrained in how we work at ARRIS.
Our challenge is to design products and processes that reduce our impact on the environment. We call this 'Conservation through Innovation,' and not only does it result in greater efficiency, it reduces consumption of materials and power.
Since taking up this challenge, we've made some significant advances – and in some cases, halved the energy consumption of our set-tops since 2005.
We collaborate and provide technical leadership in numerous global initiatives – such as the Australian, European, Canadian and US energy efficiency voluntary agreements for set-tops, as well as small network equipment.
As a result of the US agreement, energy consumption has been reduced by an estimated 16.8 TWh – that's equivalent to the energy used by all of the homes in both Washington, DC, and Chicago combined, for one year!
Our teams contribute to and chair working groups for the SCTE Energy 2020 initiatives to reduce power, energy and grid dependency.
We're therefore proud to take our experience with these initiatives and our existing ways of working into the KPN Circular Manifesto. As a signatory, ARRIS has committed to working with the Dutch service provider to implement processes that are more energy efficient for both KPN and its customers and produce hardware that is circular by design – meaning it lasts longer, is produced using fewer virgin raw materials and is built in such a way that by 2025 close to 100% of the parts and resources can be reused or recycled.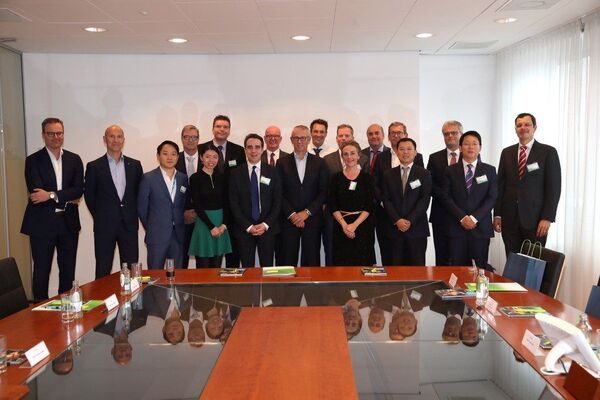 Damien O'Sullivan, Head of Corporate Responsibility, ARRIS (front row, third from left), with Eelco Blok, CEO KPN (front row, center) and Arie Cupedo, Account Director, ARRIS (back row third from left)
Steve McCaffery, President, International at ARRIS said of the partnership: "We are proud to enhance the digital lives of consumers in the Netherlands, while continually ensuring a sustainable future for the environment, and its precious and limited resources."

We want everyone to take on the challenge we created for ourselves: sure, we can make it faster, smarter, smaller and more reliable; but can we make it more environmentally sustainable?