If you work in education, you've likely seen the equality vs. equity illustration,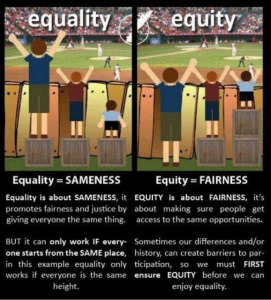 which depicts that individuals may need different levels of support to have similar opportunities. While the focus has historically been on equality for all students, the mindset of educators is shifting toward equity to continue to provide everyone with the same opportunities.
Digital equity in the classroom
Digital equity – enabling all with the appropriate access opportunity – is becoming more prevalent. To better prepare students for the future, schools are moving away from traditional chalk board and textbook learning, to adopting technologies that enable personalized and engaging learning experiences. Internet access in schools has promised an increase in the learning opportunity for students from every background. However, an unanticipated side effect has occurred - students who have better quality access to online resources at home have greater after-hours learning opportunities, leaving those who don't have Internet at home behind. In excess of 30 million Americans, more than half in areas with a median household income below $47,000 a year do not have access to broadband, according to the Center for Public Instruction. Only 48% of families below the poverty line have high-speed home access, according to The Joan Ganz Cooney Center at Sesame Workshop report. One-quarter of those earning below the median income, and one-third of those living below poverty level, accessed the Internet only through their mobile devices, according to The Joan Ganz Cooney Center at Sesame Workshop report.
The cost of digital equity
However, digital equity is not just a discussion of Internet access and speed, but about the access to appropriate digital devices, like tablets, laptops, etc. You will likely fare far better with a full size keyboard and a larger touch-enabled display, versus a smartphone, for in-depth assignments. But who will pay for these resources? What is supposed to be a free, public education is now dependent on families personally funding these resources. How do we ensure digital equity? Comment your thoughts and tune in next month for part two, where we'll share examples of school and community initiatives. Ruckus teamed up with the Learning Counsel to help you determine your position on the scale of digital equity, find out where you stand in this white paper. Learn more about RUCKUS in primary education.