This past Halloween, in addition to scary costumes and the search for full-sized candy bars, it was time for
EDUCAUSE 2018
(in the Mile-High city of Denver) – the largest conference in North America for Higher Education IT professionals.  If you recall, last year Ruckus introduced
Smart Campus
 and described the merger of
Smart Cities solutions
with Smart Home expectations.  See our
'Run-up to EDUCAUSE'
blog for a quick refresher. Through many excellent conversations and panel sessions, we continued to learn that while today's Campus IT staff are tasked with delivering a 'home-away-from-home' student experience, CIO and campus administrators are more concerned with a growing trend whereby "students have the power" – to choose where to attend, whether to stay or not, to voice complaints on social media, and most notably to vote their priorities in Student Councils or Student Body Governments – sometimes with budgets as well.  Campus administrators are adjusting strategies to attract and retain students given this new reality.  Smart Campus solutions help transform the student experience to attract and retain students by engaging them in campus life.  Smart Campus solutions provide benefits ranging from smart living, smart learning and smart safety, all while enabling building automation for lowering operational costs and green initiatives. (
see our eBook
for more info).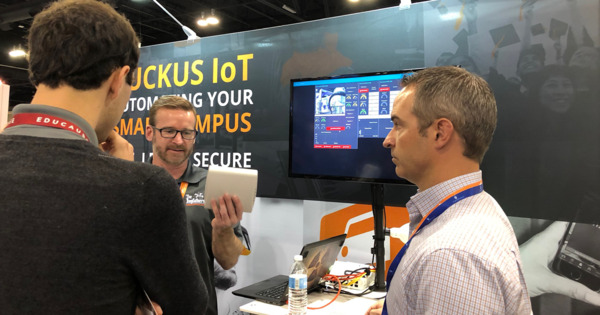 Of course, once the decision is made to start a journey to a Smart Campus, network engineers understand that digital transformation can be complicated and expensive when tackled ad-hoc.  Overlay networks abound with each new project or initiative. 
IoT
,
Wi-Fi
,
Switching
,
in-building LTE
, etc. This creates an overload of gateways, dashboards, sensor infrastructure, etc. Ruckus' vision is to create converged network access, which simplifies life for IT staff by delivering edge switching, Wi-Fi, IoT, and LTE access all from one vendor infrastructure – one platform to manage, secure and troubleshoot all with your campus connections.  We call this 'redefining connectivity' because the user doesn't need to care how they connect, or over which network, they simply want to connect quickly and reliably (and for free, if possible).
Conversations at EDUCAUSE this year also transformed. 
Rather than speeds and feeds, we discussed 'what's possible with your network?' and 'what could students do with our network to help them become successful?' In fact, of about 250 Ruckus booth visitors polled, about 50 (or 20%, if I can do the math) asked for, or expressed interest in Smart Campus solutions like smart attendance taking, in-building LTE with CBRS, smart lighting and smart safety.  One attendee from Europe came to inquire,
"I need to become a Smart Campus – so I stopped at your booth because I see you offer Smart Campus solutions.  We are expanding our campus grounds, and everything must be covered by LoraWAN."
  And that's perfect since Ruckus IoT Suite can work with LoRa networks today (typical for our Smart Cities deployments) with additional integration with LoRa networks planned for 2019. This year, we were very fortunate to be accompanied by our customer, Kerry Holling, Chief Information and Digital Officer from
Western Sydney University
.   I have blogged about WSU before, including their Smart Forest in Hawkesbury Campus. Kerry's vision for an all-wireless campus coupled with Smart Campus solutions is helping re-shape the landscape of what's possible for student experience in Australia.   So, I took up Kerry's invite and right after EDUCAUSE to see for myself what's happening down under. More on that adventure next time!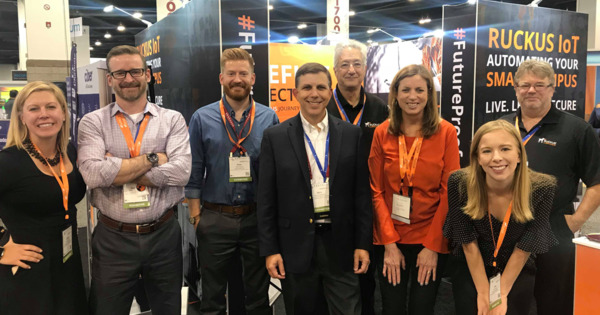 Request a demo
if you'd like to learn more about how Ruckus Networks can help you on your journey to becoming a Smart Campus.