Written by Enis Akay and Rich Nedwich
Introduction
Enis Akay
As the new school year begins, we are proud that our partnership with Lenovo is continuing to grow.  Since launching the
Lenovo Virtual Reality Classroom
earlier in 2018, hundreds of kits have been sold to schools across America. Now Ruckus and Lenovo are expanding north of the border to help bring immersive VR learning to classrooms across Canada!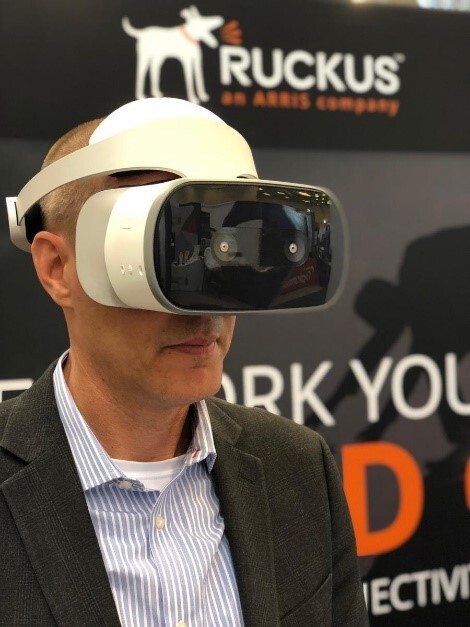 From our perspective, the
Lenovo Virtual Reality Classroom
is positively disrupting how educators teach and students consume information. With VR, students don't just passively read assigned texts and look at the occasional picture or diagram in a textbook. Rather, they
become engaged
in the lesson by truly immersing themselves in an interactive and realistic environment.
Rich Nedwich
Earlier this year we participated in Connect 2018 in Niagara, Canada's largest educational technology conference. We brought our Lenovo VR Classroom Kit for school IT decision makers to try for themselves. The response was amazing! We learned that indeed Canada is eager to try this new technology to engage students in digital learning, as part of STEM learning initiatives or simply as a new way to excite children around traditional subjects like history and geography.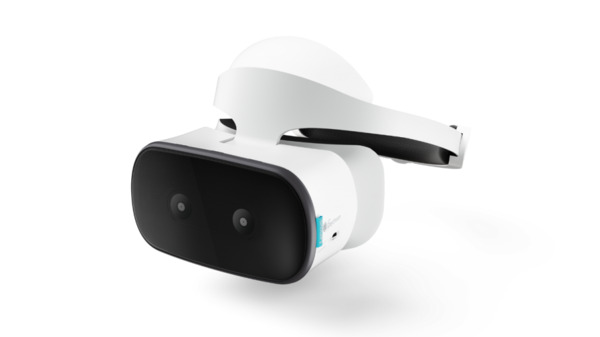 As Ruckus was a major sponsor at this event, we were fortunate to meet with the CIO, District School Board of Niagara and learn about the
Spark Center
s he has championed, which are designed as innovation hubs – bringing cutting edge EdTech, like VR, to their communities. Later, at ISTE 2018 in Chicago, we really got cooking with a full-on VR experience demo station, which saw over 100 demonstrations in just two days!  A kind teacher stopped by and remarked, "I stopped by because your sign really spoke to me, 'connecting classrooms to the world with VR' – that's what I want to do, connect our kids to the world." Indeed, what a great way to help today's students become global citizens, improve their empathy and spark their curiosity all at once!
Enis Akay
The
Lenovo Virtual Reality Classroom Kit
is packed with everything teachers need to get VR quickly up and running.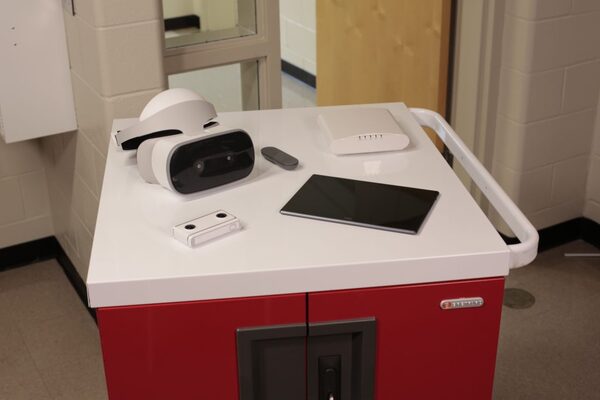 This includes
Lenovo Mirage Solo VR headsets
, a
Lenovo Tab 4 PLUS 10" touchscreen tablet
and thousands of hours of digital curriculum – all linked through
Ruckus R510 Wi-Fi access points (APs)
. Let's take a closer look at the some of the key features and benefits of the VR Classroom kit below.
Lenovo Mirage Solo headset, controller and camera
Historically, portable headsets have been limited to tracking head movement with cumbersome cords and external sensors. However, the standalone Lenovo Mirage Solo headset utilizes
WorldSense technology
to precisely track its position with integrated cameras and sensors.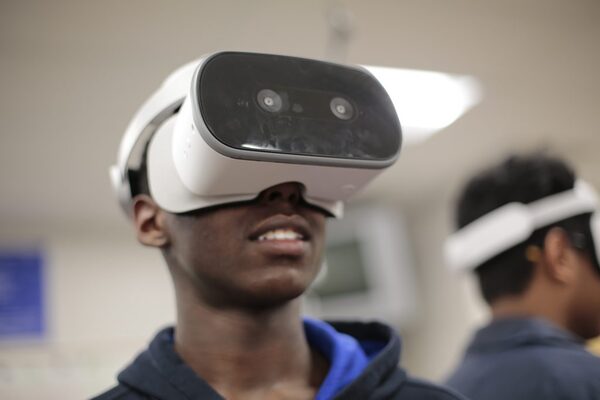 This means students can more intuitively experience immersive content – with a 110-degree field of view – by turning their heads left to right at court-side during a live basketball game or glancing skyward at snow-capped mountains. Students can also realistically duck incoming dodgeballs, bank left with their snowboards and jump over hurdles.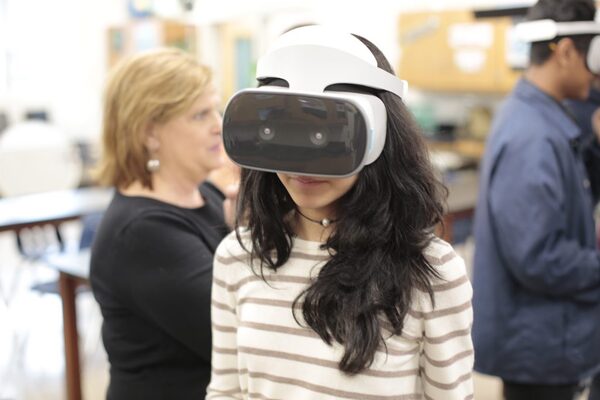 The Lenovo Mirage Solo includes a wireless Daydream controller which acts as a unique and intuitive extension of a student's hand. The Daydream controller "transforms" into a range of virtual objects such as a baseball bat, steering wheel, screwdriver and even a surgeon's scalpel. The controller features a clickable trackpad, app and home buttons, as well as a volume rocker. To enable the easy creation of original content, the
Lenovo Mirage Camera with Daydream
(an optional add-on to the kit), allows teachers and students to capture and wirelessly upload videos and images to Google Photos and YouTube. Students can then experience their own captured content in VR on the Mirage Solo – without having to use complex editing software.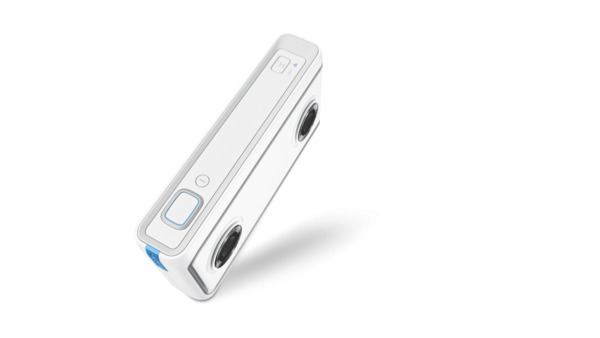 Curriculum
The Lenovo Mirage Solo headset is pre-loaded with the
Google Expeditions app
which provides access to over 700 VR field trips.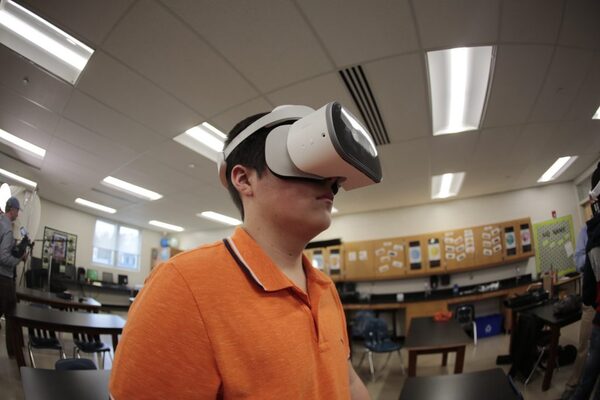 These immersive field trips enable students to swim among coral reefs, fly into the placid eye of a miniature Category 5 hurricane, visit Machu Picchu 7,970 feet above sea level, explore Antarctica (without a heavy coat) and even go for a stroll aboard the International Space Station (ISS). The Lenovo Mirage Solo headset is also pre-loaded with
The Wild Immersion, with Jane Goodall
which includes multiple VR experiences in tropical ecosystems, polar habitats and African savanna. Moreover, the above-mentioned content features automated talking and stopping points – thereby allowing teachers to more easily comment and answer questions from students. Last, but certainly not least, teachers can access VR lesson plans online and download hundreds of additional apps with the Lenovo Mirage Solo headset.
The Ruckus R510 AP
As we noted earlier, the
Lenovo Virtual Reality Classroom Kit
includes
Ruckus R510 Wi-Fi access points (APs)
. Built for dense public environments with dozens of simultaneous users and high-bandwidth multimedia content, the R510 is the perfect fit for the most demanding and immersive VR learning scenarios.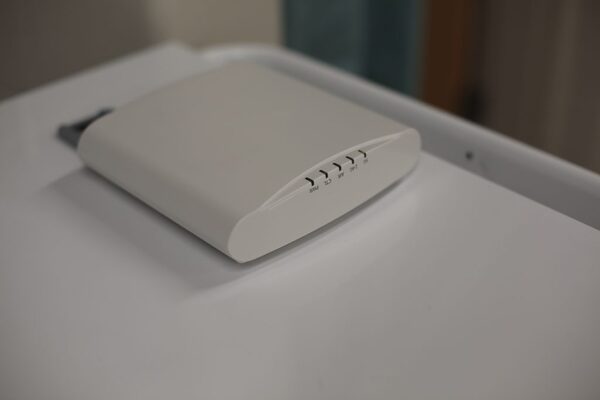 Key Ruckus R510 features include support for data rates up to 1200 Mbps; dedicated
Unleashed Wi-Fi connectivity
(no need for a wireless controller); and
BeamFlex+
to dynamically adapt antenna patterns in real time, thereby mitigating interference and extending AP range. Additional Key Ruckus R510 features include
PD-MRC antenna technology
to preserve a clear, high-performance connection even when devices change their orientation and polarity;
SmartCast
to automatically segment and prioritize demanding HD video and voice traffic over a network to deliver consistently smooth, vibrant VR experiences; a compact, rugged form factor with internal antennas; and protected uplink and power ports to prevent tampering in busy classrooms.
Conclusion
VR learning is immensely exciting for students, teachers and school administrators, although the technology itself can also be intimidating for some educators. That's why Lenovo designed its VR Classroom Kit to be simple, scalable and durable.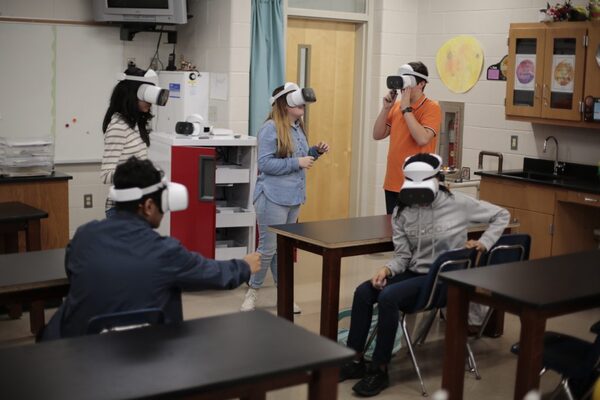 Each kit functions as a complete turnkey solution, with VR hardware, software, curriculum and Ruckus Wi-Fi all pre-configured and ready to go. There is no complex setup or adjusting settings to get and stay connected. Teachers can just turn on the VR headsets, bring up the day's lesson plan on the tablet and start engaging students. Interested in learning more about bringing virtual reality to life in school classrooms?
You can download our joint solution brief here
.