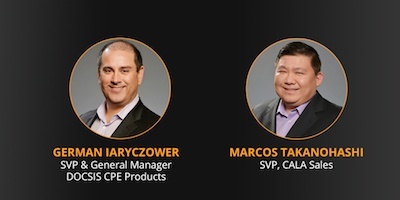 This week, we announced two strategic leadership appointments: Germán Iaryczower, as ARRIS's new SVP & GM, DOCSIS CPE business, and Marcos Takanohashi, as our new SVP, Sales for Caribbean and Latin America (CALA).
These advances in leadership reflect ARRIS's heightened focus on DOCSIS and the international market. Our runaway growth in DOCSIS created the opportunity for a new position to lead the business, and German was a perfect fit for the role. He's spent the last 22 years spearheading ARRIS's growth in the Caribbean & Latin America (CALA) and Canada, which gave him a unique perspective on the changing global needs for bandwidth and Gigabit evolution.
Germán's appointment opened up his Sales leadership role in CALA. Marcos was the obvious candidate, as the role would be a natural extension of his responsibilities as Regional VP, Sales. Marcos previously oversaw Sales for the Caribbean and a large part of the CALA market. Before that, he served as the GM of Go-to-Market for the region at Motorola Mobility, prior to ARRIS's acquisition of the company. In short, he's a well-respected member of the team whose experience and strong customer relationships will be an asset in this growing role as the region's Sales leader.
With Germán taking the helm on DOCSIS, and Marcos continuing our leadership in CALA, ARRIS is in a strong position to redefine connectivity for our customers and their billions of subscribers around the globe.
Congratulations, Germán and Marcos!