CRN®, a brand of The Channel Company
, recently named three Ruckus Networks employees – Raelyn Kritzer, Diane Guthmann and Jennifer Judy – to its
Women of the Channel list
. This is a prestigious list where CRN editors select Women of the Channel honorees based on their professional accomplishments, demonstrated expertise and ongoing dedication to the channel. We are proud to announce that three Ruckus Networks honorees were selected this year: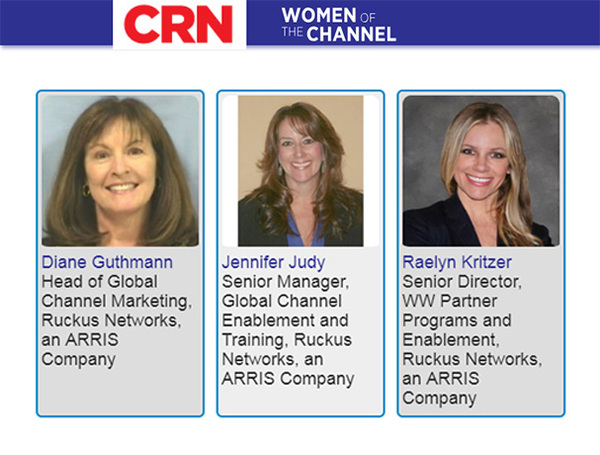 Diane Guthmann also named to CRN's Women of the Channel Power 100 list
The annual list includes women spanning the IT channel, representing vendors, distributors, solution providers, and other organizations that figure prominently in the channel ecosystem. Each is recognized for her outstanding leadership, vision and unique role in driving channel growth and innovation. Guthmann was also a 2017 Women of the Channel. This year, she has also been named to CRN's 2018 Power 100, an elite subset of the Women of the Channel award list. Women in this exclusive group of channel influencers represent the most powerful leaders across IT channel organizations whose vision and influence are key drivers of their companies' success and who help move the entire IT channel forward. "It's amazing to have three strong women from our global channel team be recognized on CRN's Women of the Channel list," said Ruckus President Ian Whiting. "Ruckus has been 100-percent channel focused since our inception, and Raelyn, Diane and Jennifer each have been instrumental in continuing to strengthen our partner programs, innovate our channel operations and improve relationships with partners." "This accomplished group of leaders is steadily guiding the IT channel into a prosperous new era of services-led business models and deep, strategic partnerships," said Bob Skelley, CEO of The Channel Company. "CRN's 2018 Women of the Channel list honors executives who are driving channel progress through a number of achievements—exemplary partner programs, innovative product development and marketing, effective team-building, visionary leadership and accelerated sales growth—as well as advocacy for the next generation of women channel executives." The 2018 Women of the Channel and Power 100 lists will be featured in the June issue of CRN Magazine and online at 
www.CRN.com/wotc
.