Most of us think of disruption as temporary: a service disruption and then a return to normal programming. Industry disruption was a central theme at HITEC 2019. From my perspective, these trends are not temporary. There are many new forces at play which will have lasting implications on the guest experience and the companies enabling these services.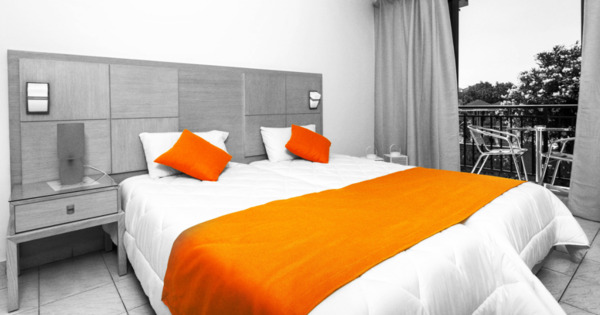 With the explosion of smart devices, enhanced staff communications and broader access of analytics, new decision-makers have emerged. Connectivity is no longer the sole purview of IT, as all departments (if they weren't previously) have become stakeholders in the network. This is because guests now expect fast and ubiquitous connectivity for a wide range of connected personal devices. The expectation extends far beyond the guest room to convention centers, pools, gyms, lobbies, parking lots and restaurants.

Previously, we observed the adoption of converged networks for guest room technology like voice, video, and data. The current need is to converge IT networks with OT networks. Put simply, energy management, lighting controls, access controls, and others should merge into a single network. Such platforms generate valuable analytics, improve operations and create efficiencies which reduce construction, capital, and operating costs. Let's explore this in more detail below.
Meeting Evolving Guest Expectations
Guest expectations for connectivity have clearly evolved over the years. In the early days of the internet, guests would go online using their bulky laptops and were tethered to an unwieldy Ethernet cable. Next came Wi-Fi which, in it is the earliest iteration, specified a paltry two net bit rates of 1 or 2 megabits per second (Mbit/s). Nowadays, hotels are deploying blazingly fast Wi-Fi 6 (802.11ax) access points (APs), a standard that is well on its way to bridging the performance gap towards ten-gigabit speeds. Indeed, Wi-Fi 6 is designed for high-density connectivity and offers up to a four-fold capacity increase over its Wi-Fi 5 (802.11ac) predecessor. These speed and capacity increases are essential to support bandwidth-hungry guest devices, including AR/VR applications, 4K TVs, wearables, tablets, laptops and personal assistants such as Alexa and Siri.
Operational Activity and Efficiency
In addition to providing guests with fast and ubiquitous Wi-Fi for a wide array of connected devices, hotel networks can help optimize operational efficiency and improve the overall customer experience. More specifically, hotel networks routinely support a diverse range of connected IoT infrastructure, including point of sale (POS) staff alert/safety communications, asset trackers, smart thermostats, room occupancy sensors, blind controls, connected door locks, and CCTV systems. However, older hotel networks weren't designed to handle the demands of new applications. Moreover, most IoT devices use the already congested 2.4Ghz band. As such, managing traffic requires an intelligent server which helps navigate and prioritize applications.
Private LTE
Private LTE networks enable organizations to address challenging, critical use cases that only a dedicated, secure, ultra-high-quality network can reliably support. Critical use cases include:
Secure, wide-area, high-definition video surveillance
Critical communications for security and operations teams
Mobile point-of-sale (POS) and mobile kiosk connectivity
Mobile high-volume data transfer for imagery, video, and diagnostics
To support these implementations, organizations can build their own private LTE network by leveraging the CBRS band and drawing upon a rapidly growing ecosystem of CBRS-capable devices and endpoints.  
The Right Partners
How much of this new technology is in search of a problem to solve? Today, owners and operators are faced with options for new technology, use cases, decision-makers, and vendors. These diverse solutions from disparate sources require a converged network with proper management tools for full interoperability. Finding the right partners who understand the infrastructure, technology and use cases is critical to ensure a steady ROI.
Transforming industry disruption into opportunity
It is an exciting time for the hospitality industry with many new opportunities. It is obvious that the changes in technology, business models and decision-makers are part of a permanent shift in the status quo. At Ruckus Networks (now part of CommScope), we are helping hotels transform industry disruption into an opportunity. We understand how to converge multiple and disparate IT and OT networks with our Ruckus IoT Suite. We continue to lead the industry in the deployment of Wi-Fi 6 APs and multi-gigabit ICX switches to support a new generation of guest applications, devices, and operational infrastructure.

We have also spearheaded the development and deployment of Private LTE and CBRS. This means hotels can now take control of their monthly recurring costs for property communications and will soon have more options for low-cost, in-building LTE services. In addition, Ruckus analytics generate valuable information for IT (guest) and OT to enable informed decision making.  Last, but certainly not least, centralized and unified management tools simplify deployments, improve operations and reduce downtime.
Conclusion
Although we do not know which hospitality start-up will provide the next killer app, we do know it will require efficient infrastructure, rules engines, management tools, and a scalable network to be successful.  This is precisely why our partners are trained to design, deploy and manage the infrastructure to support them all. Our approach? Engineer to engineer – with application regression and compatibility testing. We are no longer talking about simple disruption. Rather, a sea change of technology, devices, users and applications are altering the hospitality landscape – now and in the future. My take-away from HITEC? Plan for integrated solutions with modular designs and support for multiple protocols.
---
Continue reading:
HITEC 2019: Going back to the future
How hotels can eliminate dead zones with CBRS
Wireless convergence in the hospitality industry