Employees are entitled to feel safe and protected from harassment at work. In the unfortunate event of a severe incident in the workplace, employees must be able to alert law enforcement officials to prevent further harm immediately. Although harassment is an issue that concerns employees everywhere, we will highlight three industries – hospitality, education, and healthcare – that have been especially affected by violence and harassment in the workplace.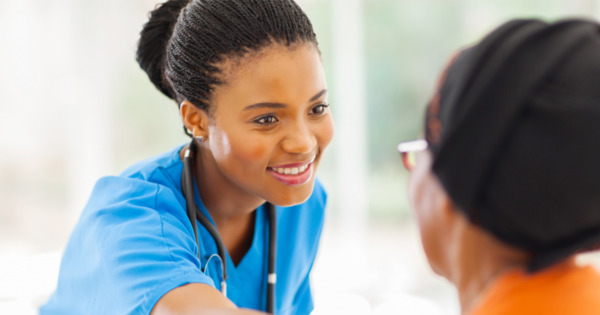 IoT Panic Buttons in Hospitality
In 2018, the American Hotel & Lodging Association (AH&LA) announced a new workplace safety initiative designed to provide emergency communications and location-based services for employees. Backed by major hotels—including Marriott International, InterContinental, Hilton, and Hyatt—the 5-Star Promise has committed to providing staff alerts and panic buttons to hospitality workers across the United States. Several U.S. cities have backed similar initiatives with many, such as Seattle, New York, and Las Vegas, enacting new regulations to provide employees with a panic button for emergencies.
IoT Panic Buttons Education
School officials across the country are struggling to effectively respond to a rash of public safety incidents, whether they involve harassment or gun safety. Due to a significant rise in violence, wireless panic buttons and apps are now used extensively to disseminate 911-style alerts to emergency personnel, school staff, students and parents.
IoT Panic Buttons Healthcare
Healthcare providers must offer timely responses to incidents that range from staff harassment to patient falls. This is why panic buttons are strategically placed or worn – so police, security, or medical personnel can be quickly alerted to an emergency. Small wearable personal transmitters on a necklace, wrist or belt are configured to provide a precise location – along with the wearer's name, picture, or other information – through a wireless network. Panic buttons can also be configured to send an alert to nursing stations, security personnel, or a preset list of notification devices. Moreover, panic buttons are used to push out an alert that displays harassment or intruder alarms, along with the wearer's name and location.

Deployment Challenges
The deployment of staff alert systems in all three of the industries mentioned above can be quite challenging. This is because panic buttons may require the deployment of new and dedicated networks built around Bluetooth Low Energy (BLE), Zigbee, or Wi-Fi. Each new network strains already limited IT resources, as a network often demands dedicated hubs, extra switch ports, and switches, as well as ongoing maintenance. Moreover, ubiquitous coverage is required for staff alerts and panic buttons, which means dead zones must be eliminated. The IoT Panic Button Solution

Ruckus Networks (now part of CommScope) and industry leaders have joined forces to make staff alert solutions simpler and more cost-effective to deploy. Along with our global staff alert ecosystem partners, we are now offering a fully integrated, easy-to-manage IoT panic button solution for the hospitality, education, and healthcare industries.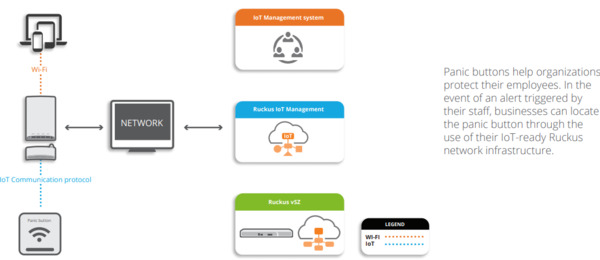 Our complete solution includes Ruckus IoT-ready Wi-Fi access points (APs), Ruckus IoT modules and controller, Ruckus SmartZone network controller, panic buttons, and Ruckus ICX switches.

Key benefits include:
Locate: Panic buttons enable security personnel and staff to locate and help employees rapidly.
Timely: Instant notification of safety-related incidents help protect staff, visitors, and guests.
Discretion: Panic buttons silently alert security without warning the perpetrators.
Improving safety in the workplace doesn't have to mean high costs and technical complexity. Ruckus Networks and our staff alert ecosystem partners make wireless panic buttons and other IoT services simple and cost-effective to deploy.
---
Continue reading:
Securing Schools, Hotels, and MDUs with IoT Smart Locks
Allbridge manages TraknProtect ESDs with Ruckus' IoT Suite
Helping hotels select staff alert devices