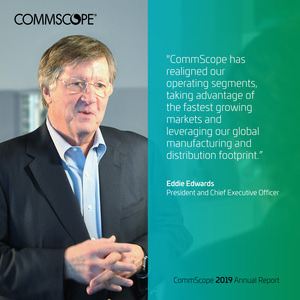 With the global economy experiencing major shock waves due to Coronavirus, 2019 seems like a distant memory. New tariffs, Brexit planning, and changing political and economic agendas presented many headwinds that challenged CommScope. Of course, COVID-19 puts those things in perspective.
Fortunately, CommScope is built to survive and thrive. Regular CommScope investors know our track record in managing through market slowdowns and major acquisitions. In 2019, we expanded our customer base and addressable markets with the acquisition of ARRIS to further stabilize, strengthen and solidify our market position. We believe this acquisition unlocks high growth opportunities in adjacent markets, and our optimism and expectations are steadfast for future success.
CLICK TO TWEET: CommScope's President and CEO Eddie Edwards summarizes 2019 and the company's future aspirations with the release of the 2019 Annual Report.
Our even greater relevance across technology platforms that service many different forms of communication customers helps us weather cross-currents in the industry. We believe this is a major strength even though it will not insulate us from any one period's challenges, such as COVID-19.
We will continue to supply customers with advanced network solutions, like we did in 2019 for INWIT, Italy's largest provider of neutral host services, and Banner Health, a Phoenix, Arizona based healthcare provider, who selected the CommScope Era C-RAN antenna system to deliver in-building wireless services.
And for Altice France, which is collaborating with CommScope on a Smart Media Device to bring a personalized, connected home experience to its subscribers, representing the next phase of customer experience engagement in the home.
And Swiss provider Sasag, which became the first European operator to announce the upgrade of its entire network to use DOCSIS 3.1 for both the upstream and downstream channels, utilizing new E6000 systems from CommScope.
And TESSCO Technologies, a leading value-added distributor and solutions provider for the wireless industry, which secured the entire first year production capacity for CommScope's Bi-Directional Amplifier for a public safety wireless solution.
As now meets next, and customers look to us to transform their network connectivity, we expect CommScope will continue to create valued solutions while defending our leadership in mature markets. We believe CommScope will evolve faster, build stronger and maximize existing revenue streams while shifting resources toward growth opportunities.
For a more complete look at the last year for CommScope and our aspirations for the future, I invite you to look at our 2019 Annual Report, published today. You'll find a new, interactive format with more video and graphic content. And stay with us on this journey in 2020 as we manage through today's challenges and ready for the next-generation of everything.