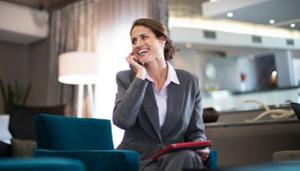 This is the second in a two-part blog series that will answer the most frequently asked questions about Citizens Broadband Radio Service (CBRS). The first part was posted on December 18, 2019.
Full commercial deployment of Citizens Broadband Radio Service (CBRS) will soon be approved by the FCC. When the band is officially available for use, CBRS will be a brand new ecosystem with many new concepts and requirements. Unless you were immersed in the formation and standardization of CBRS for the past several years, like CommScope has been, chances are that you have a few questions around deployment of a CBRS network. We answered a first set of questions in a previous post. Here we continue with some of the other most frequently asked questions we are hearing from customers.
CLICK TO TWEET: Check out the final blog from CommScope's Rashid Bhatti answering the remaining most frequently asked questions about CBRS.
7. What are other bands where a Spectrum Access System (SAS) might be used?
Elements of SAS such as the database and spectrum availability determination can be applied to other bands. Spectrum sharing is currently being considered for other bands where the incumbents may be difficult to relocate off the band.
8. Do I need to install any hardware or software products in my network to support SAS or ESC?
SAS is a cloud hosted service that does not require any infrastructure to be installed in an operator's network. CBRS devices (CBSDs) installed in the operator's network are programed to connect securely to the SAS via the internet.
There is no direct interaction between the ESC and an operator network. The ESC only interfaces with the SAS.
9. What do I need to implement CBRS in my network?
Here is a high-level checklist of items for deploying a CBRS wireless network:
For your specific business case, decide whether you will require a PAL license or whether the GAA use of the band will meet your business needs adequately.
Perform a spectrum availability analysis for your target area of deployment. CommScope can perform a detailed analysis for you and make PAL channel recommendations.
Select a SAS vendor. Some operators select their own SAS vendor independently, while others pick from the SAS options provided by their radio access network (RAN) provider. In almost all cases, a SAS with an ESC network behind it will be needed. CommScope is a leading SAS/ESC administrator and supported by most major RAN vendors.
You will need a CBRS compliant RAN, which is essentially a network of radio devices, e.g. small cells, or fixed wireless base stations along with customer premises equipment (CPE). Depending on your RAN equipment provider, you may need to purchase a domain proxy separately.
If this is a greenfield LTE network deployment, you will also need:
a. An evolved packet core (EPC).
b. If you are not experienced in LTE network installation, an integrator to install everything for you correctly*.
c. If you are not experienced in LTE network operation and management, a hosting service to manage and monitor your network.
CommScope offers turnkey CBRS networks. We also work with several partners in the above expertise areas and can recommend the right one for your network type.
* You or your integrator may need a Certified Professional Installer (CPI) to approve your CBSD installation. More on CPI below.
10. What is a domain proxy?
According to WInnForum, a domain proxy or DP is "an entity engaging in communications with the SAS on behalf of multiple individual CBSDs or networks of CBSDs. The domain proxy can also provide a translational capability to interface legacy radio equipment in the 3650-3700 MHz band with a SAS to ensure compliance with Part 96 rules." Keep in mind that the domain proxy cost to utilize CBRS on preexisting legacy equipment may be significant in some cases.
11. What is the CPI requirement?
FCC Part 96 rules require that applicable CBRS devices (CBSDs) be professionally installed. A Certified Professional Installer (CPI) may physically install the CBSD her/himself or may take the responsibility for accuracy of the data entered into the CBSD by another installer. All Category B CBSDs require CPI. Category A CBSDs installed above six meter Height Above Average Terrain (HAAT) and unable to self-geolocate also require CPI.
CommScope is a CPI Training Program Administrator (TPA) for CBRS. The accreditation allows CommScope to offer training to installation professionals who want to attain CBRS CPI certification. More information and pricing for CommScope's training program is available here.
12. What are the different categories of CBSDs?
There are two CBSD categories as following:
| | |
| --- | --- |
| | Maximum EIRP (dBm/10 MHz) |
| Category A | 30 |
| Category B | 47 |
13. Where can I learn more about CBRS?
Watch this 25 minute video to learn more about CBRS, SAS, ESC and the different use cases in detail.
Still have questions? Contact us here.