Fifth-generation wireless (5G) is the next major phase of mobile communications. 5G is set to deliver higher data transfer rates for mission-critical communications and will allow massive broadband capacities, enabling high-speed communication across various applications such as the Internet of Things (IoT), robotics, advanced analytics and artificial intelligence. While 5G will not automatically be quick, easy or cheap for the federal government, a study conducted by market research firm Market Connections, underwritten by CommScope, explores the opportunities of 5G and what impact it will have on agencies in the years ahead. That said, of the 200 government respondents to the survey, only 46% feel their current network infrastructure is capable of supporting 5G. Where does your agency fall within this survey? Is your agency 5G ready?
Read below to see where your peers in government stand in terms of 5G with these five key takeaways from the survey findings.
CLICK TO TWEET: Is your government agency ready for 5G? CommScope's Ed Wyatt showcases a study where 46% of government respondents believe they are capable of supporting 5G.
Federal government decision-makers expect 5G to have a significant impact on their agency's operations within one to four years
The emergence of 5G promises to change how companies, citizens, and government agencies interact with technology. Decision-makers within these agencies hope that 5G produces the following outcomes: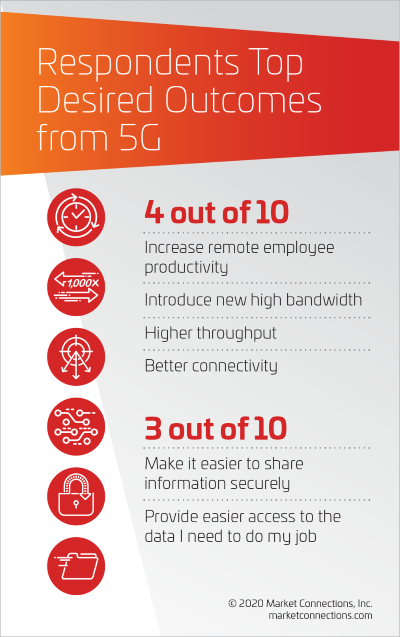 While these outcomes are desired, those within federal agencies believe the biggest barriers to 5G adoption are the costs: 44% believe initial/up-front costs will be the biggest barrier and 49% are concerned about ongoing costs. About one-quarter say not being aware of what is required for adoption will be their barrier.
Remote employee productivity ranks high in terms of the benefits of 5G
There is no question that we are moving towards a "new normal" when it comes to the way we work. Largely in response to the COVID-19 pandemic, remote employee productivity is one of the top desired outcomes for federal agencies looking to implement 5G. The network's increased bandwidth, faster speeds, and low latency will allow remote employees to complete tasks that once required them to be physically present on-site.
Information security and ease of data access remain important factors when network decisions are being made
For years, network providers and engineers have been tasked with ensuring information is both accessible and secure. While data privacy and security remain true concerns for federal decision-makers, if deployed correctly, 5G will change the way federal entities operate.
Those within federal agencies want to protect both their mission-critical and non-mission critical traffic
Agencies do not want to be in a situation where they are depending on continued changes to an operators' public network. Therefore, the idea that private networks create an environment where you can actually keep the data on-premises is an important concept. This will significantly reduce latency comparing to the public network.

Many within federal agencies plan to or have already adopted 5G
5G is the most highly anticipated change to the future of telecom. In fact, 8 out of 10 federal decision-makers are planning to, or have already adopted 5G. That said, only 6% of respondents indicated they have deployed 5G and 14% are piloting the technology, which leaves significant room for growth within the federal government.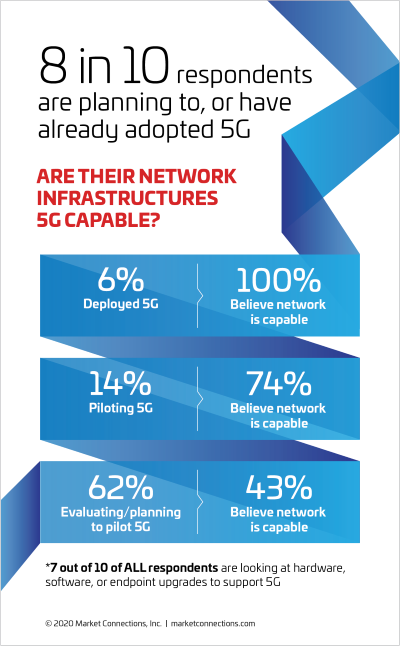 Interested in reading more important results from the survey? Download the full whitepaper here.
About the Study
From April 23 to May 13, 2020, 200 federal government decision-makers involved in wired or wireless network and communications infrastructure solutions participated in a blind online survey. Respondents included: 56% federal civilian or independent government agency; 40% defense, military, or intelligence agency; 3% federal judicial branch; and 2% federal legislature. All respondents had some knowledge of 5G adoption within their agency: 71% evaluate or recommend firms; 65% are on a team that makes decisions; 50% develop technical requirements; 38% manage or implement solutions; 17% make the final decision, and 3% have some other involvement.