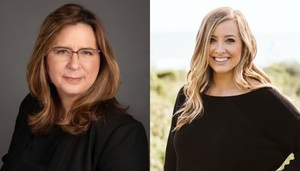 CRN®, a brand of The Channel Company, has named Jeanette Lee and Kristen (Shumate) McDowell to its esteemed 2020 Women of the Channel list.

Recognizing the unique strengths, vision, and achievements of a select group of women, this prestigious, annual list acknowledges channel leaders who are blazing a trail for future generations. These women are from all areas of the IT ecosystem, including technology vendors, distributors, solution providers, and other IT organizations.
The CRN editorial team selects the honorees to celebrate a list of exceptional women acclaimed for their contributions to channel advocacy, growth, thought leadership, and dedication to the IT channel.
CLICK TO TWEET: CommScope's Jeanette Lee and Kristen McDowell were honored as CRN's 2020 Women of the Channel. Stephen Kowal explains their accolade in this blog.

"We are proud to announce that Jeanette and Kristen were honored on CRN's 2020 Women of the Channel list," said Stephen Kowal, Senior Vice President, Enterprise Sales at CommScope. "Jeanette and Kristen reflect CommScope's strong passion for channel and have each made meaningful impacts on channel strategy and partner relationships."
Jeanette Lee

Jeanette Lee is a senior leader at CommScope, with hands-on expertise in high tech and computer networking in particular. As a former systems engineer, she understands selling technology requires technical proof and a deep understanding of its benefits. She leads a team dedicated to arming the channel with compelling technical differentiation, competitive analysis, and deployment best practices. These include:
Competitive analysis – real-world Wi-Fi testing is performed in the lab to ensure CommScope RUCKUS products meet the highest standards and offer benefits over competing products
Technical differentiation – use case-driven solution development that solves real and meaningful problems
Best practices – Jeanette's team is responsible for all validated reference designs, best practices, and cookbooks used to ensure every CommScope RUCKUS deployment is successful
It should be noted that Jeanette recently completed the creation of a $1M+ innovation center in Silicon Valley that features a live, immersive experience with CommScope technology for visitors to the Sunnyvale campus. As well, Jeanette is an honoree for the 2020 YWCA of Silicon Valley Tribute to Women Award.

Kristen (Shumate) McDowell

Kristen (Shumate) McDowell is a senior marketing manager who leads Channel Communications for the global enterprise channel team at CommScope. She has demonstrated success in developing and executing channel marketing plans that drive partner engagement and enhances enablement efforts. She is skilled at working with cross-functional teams to influence go-to-market strategy with measurable impact on channel revenue. Kristen continues to streamline communications efforts to drive cross-selling opportunities across the entire networking and infrastructure enterprise portfolio.

"CRN's 2020 Women of the Channel list recognizes an accomplished group of influential women leaders whose strategic vision and unique achievements accelerate channel growth through cultivated partnerships, innovative thought leadership, and unwavering dedication to the IT channel," said Bob Skelley, CEO of The Channel Company. "We are proud to honor them for their accomplishments and contributions to driving channel success."
The 2020 Women of the Channel list will be featured in CRN Magazine on June 8 and is now available online at https://www.CRN.com/WOTC.