ANGA COM DIGITAL 2021
Online Congress for Broadband & Media
We are looking forward to connecting with you at ANGA COM – Exhibition & Conference for Broadband, Television & Online taking place virtually between 8th and 10th of June.
At this virtual event, CommScope will be presenting the region's most comprehensive portfolio of passive and active solutions for broadband networks, featuring the new, agile NOVUX ecosystem, latest Wi-Fi innovations and technologies designed to enable next generations 10G broadband.
Don't miss CommScope speaking slots presented by our subject matter experts. Scroll down to see details of our speaking slots.
Visit our virtual showroom at ANGA COM where we will present a selection of our recent innovations:
Engage with our keynote presentations and webinar in the event Content Library to learn about emerging trends and technologies:
KEYNOTE 1 -Wireless and wireline convergence
by Paul Hubbard, Business Development Director, Network Connectivity
Network convergence is a mechanism to leverage network capacity driving network deployment efficiency and delivering additional revenue streams, CommScope's Paul Hubbard will discuss techniques and considerations for deploying new networks but also consider how existing networks can be leveraged to deliver network convergence and how solution flexibility is critical to allow networks to evolve in the future.
KEYNOTE 2 - Introduction of the new NOVUX FTTX Ecosystem
by James DeCoe, VP, Network Connectivity
The industry's first modular FTTX ecosystem makes the proverbial impossible possible: 50x more than the number of configurations that are available today with 75% fewer components and much more. Join this webinar for insights into the NOVUX FTTX ecosystem launch scheduled for June 2021.
KEYNOTE 3 - Low-latency - the new broadband currency
by Ian Wheelock, Engineering Fellow, CTO and Eco
Speed is losing its place as the key differentiator in broadband services. Low-latency is now enabling new service tiers for gamers etc. Ian will outline how the network is evolving to assure low-latency all the way to the end device. The discussion from CommScope's Jan Wheelock will include developments in low-latency DOCSIS and Wi-Fi, and how to manage latency end-to-end.
WEBINAR: Future Proof Network Options with 204MHz High-split Upgrades
by John Ulm, Engineering Fellow, Technology - Network & Cloud
To book a meeting with our subject matter experts during ANGA COM DIGITAL or to find out more about the solutions presented please contact us by sending an email to EuropeMarketing@commscope.com
Agenda
Session
Speaker: Tom Cloonan - CTO, Network Solutions
Title: The Path to 10G Broadband and DOCSIS
This session will study Traffic Engineering projections into the future. It will discuss how DOCSIS 3.1 features (1.2 GHz, Mid-split, and High-split) and DAA and Low Latency DOCSIS can help operators in the near-term. It will also describe how DOCSIS 4.0 will offer capacity for the 2020's, 2030's, and beyond. Expected time-frames and drivers behind these transitions will also be covered.
---
Speaker: Charles Cheevers - CTO, Home Networks
Title: Aligning Wi-Fi innovation with network evolution
DOCSIS 4.0 and XGS-PON are driving 10Gbps speeds, Wi-Fi needs to match access network speed and latency. Charles will outline how operators will leverage evolving Wi-Fi technology: Wi-Fi 6, 6GHz Wi-Fi 6E, Wi-Fi 7 and early insights into Wi-Fi 8. It will be key for operators to plan integration of these new solutions to maximize consumer experience and balance capital costs for new tri-band mesh solutions.
---
Speaker: Antonio Fernandez, Regional Market Manager
Title: Practical FTTX Deployment Strategies for the Future
As network demands continue to increase at an exponential rate, FTTX deployment strategies are evolving to accommodate increased network flexibility and addressing changing consumer demands. This presentation will look at strategies around PON network platform migration to accommodate new access technologies and consider techniques on how to practically consider whole life TCO, driving efficiency from the network selection through to deployment techniques, optimizing networks for the application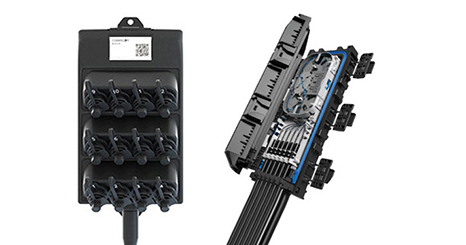 INTRODUCING NOVUX - an agile platform for all your network applications—today and in the future
You told us that, to realize your goals and keep pace with the rapidly changing network environment, solutions must deliver the agility to quickly evolve while providing the flexibility to work seamlessly with any field application and deliver reliability both today and decades from now.
A Service Provider's Guide to the Three Changes in Wi-Fi
Service providers will be able to take advantage of three changes in Wi-Fi technology over the next three years--Wi-Fi 6, Wi-Fi 6E and Wi-Fi 7. In this blog, Charles Cheevers explains how service providers are deciding how to reconcile access point and client availability in the context of new Wi-Fi technology applications.
The Cable Operator's Road to 10G
Operators will have many technologies and many options from which to pick as they migrate forward towards 10G operation in the future. Read more in today's blog.
Unleashing DOCSIS 4.0 for HFC & FTTH
Today's operators have many options for migrating their HFC networks and upgrading to DOCSIS 4.0. This blog explains how operators can navigate DOCSIS 4.0.