Universal connectivity grid (UCG): the Fact File
Universal connectivity grid (UCG): the Fact File
Connectivity is the 4th utility

Modern workplaces are changing. They're now dynamic places that are more connected than ever before. You have numerous devices and objects to connect, and demanding end users to keep happy. How do you do it?
A converged infrastructure can help. It supports real estate, facilities and IT services all in a single architecture. A universal connectivity grid (UCG) lets you ensure this architecture connects every user and device—even when they're on the move.
Modern Workplaces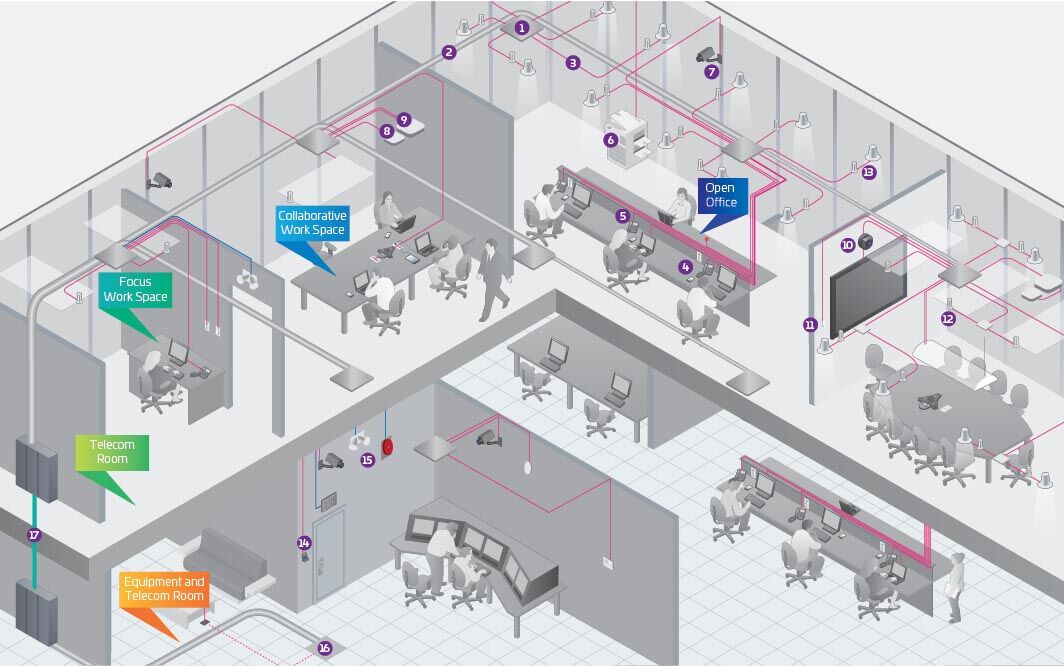 Would you like to read offline?
Download a PDF version of this article to read again later.
Stay informed!
Subscribe to The Enterprise Source and get updates when new articles are posted.
What is the universal connectivity grid (UCG)?
UCG lets you deploy cable infrastructure in an enterprise environment with the maximum flexibility and scalability necessary to support all workplace activities. Think of it as your body's nervous system; it takes sensorization, command and control, and data to every part of your body that needs it.
UCG is:
Universal: It provides access to virtually any device, as long as it connects through common and standardized protocols like Ethernet, Bluetooth, or Zigbee
Connectivity: It connects devices to central equipment like switches, servers, and similar
Grid: Implementation guidelines are based on service areas, the size of which varies on the applications to be served
The workplace is evolving. New advances in wired and wireless technologies, plus a general cultural shift to greater mobility, has seen the workstation-centric model transform into a distributed, device-centric model.
The most effective way of making sure a workplace has ubiquitous connectivity is placing service concentration points in or near the ceiling, where they're able to easily reach a DAS antenna, workstation, security camera, or HVAC equipment. UCG gives you a consistent yet agile way to make sure your structured cabling is always where you need it, without you having to spend a fortune on installations that disrupt your business.
Learn more at: Universal connectivity grid solution page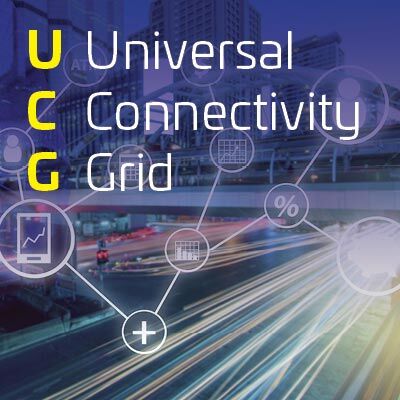 UCG drivers
When structured cabling was introduced, its main purpose was to be a standardized medium to connect workstations, desk phones, and other devices. It marked the start of open architecture in the infrastructure world.
Since then, buildings have evolved to incorporate many smart systems. Generally this means using their own cabling media—of which there could be many different types.
This evolution to smart buildings is happening alongside a transformation in telecoms cabling: the shift from workstation-centric to device-centric in the workplace means a growing number of connectivity points located in or near ceilings. And, on top of providing users with connectivity in the workplace, connectivity points are also needed in other locations to support the growth of technologies such as:
Wireless technologies—chiefly Wi-Fi and in-building wireless solutions like DAS and small cells that need additional connections in ceilings for access points around your building
Security and access control systems that increasingly use ceiling connectivity for power over Ethernet (PoE)-powered cameras, controllers and card readers
Space and energy management systems that use sensors spread throughout buildings or sites to make the most of your space and support occupancy-based energy management by integrating with network-controlled LED lights and HVAC systems
Other PoE-enabled devices
Digital displays that are being used more and more for things like space and energy monitoring and showing the locations of unoccupied meeting rooms or personnel
An ever-increasing ecosystem of other internet of things (IoT)-connected devices and services
What are the advantages of UCG?
In enterprise spaces, communications infrastructure is typically made up of two basic elements: the backbone, also known as the vertical or riser, and the horizontal. The backbone connects telecommunications rooms (TRs) to centrally-located equipment rooms (ERs). Backbone media is typically OM3, OM4 or OM5 multimode or singlemode fiber-optic cable, able to support high-bandwidth applications, though copper cabling can also be used for low-bandwidth applications.
This architecture lets you make modifications without major expense or disruption to daily operations.
UCG is an evolved concept from the Structured Cabling System (SCS) that we took an in-depth look at previously here on The Enterprise Source. Read more about it >
Wired LAN
Problem: You need to ensure optimal infrastructure to support wired devices in a defined work area, including PCs, printers and VoIP terminals. You also need to provide high-speed communication and remote power to an increasing number of devices in that work area.
Recommended solution: By deploying Category 6A cabling for the wired LAN, you get optimal support for gigabit Ethernet today, and up to 10 gigabits in the future. Category 6A uses ubiquitous RJ45 connectors, meaning simplified connectivity and backwards compatibility. Compared to lower categories, Category 6A cable offers lower dc resistance and improved heat dissipation for remote powering. It's the ideal solution if you need to combine Ethernet performance and PoE support. Workstations with 2G, 4G, 5G and 10G Ethernet ports are already widely available, and they'll become more common in years to come.
Typically, wired LAN deployments include two to four Category 6A work area outlets if you need to support a PC/laptop (or a PoE-powered display), a VoIP phone, a network printer, and a spare.
Wired LAN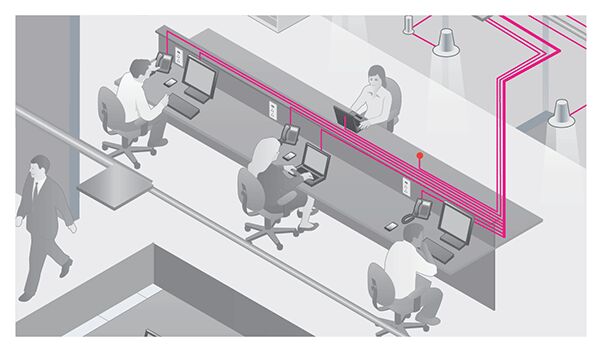 Wi-Fi and in-building wireless
Problem: You need to provide optimal infrastructure to support a wide range of bring your own device (BYOD) mobile devices that rely on both a high-speed Wi-Fi infrastructure and a cellular in-building wireless network for high-quality connectivity.
Recommended solution: With Wi-Fi backhaul speeds poised to exceed one gigabit with the latest generation of 802.11ax access points, Category 6A is your best option for wireless infrastructure. Modern DAS and small cell solutions can share Category 6A infrastructure without an overlaid physical network. These in-building wireless solutions give you multiband, multioperator, multitechnology capabilities through ceiling-mounted universal access points.
You should use a Category 6A ceiling grid to support the wireless infrastructure, with four or more outlets per service area to support Wi-Fi and DAS or small cell networks.
Wi-Fi and in-building wireless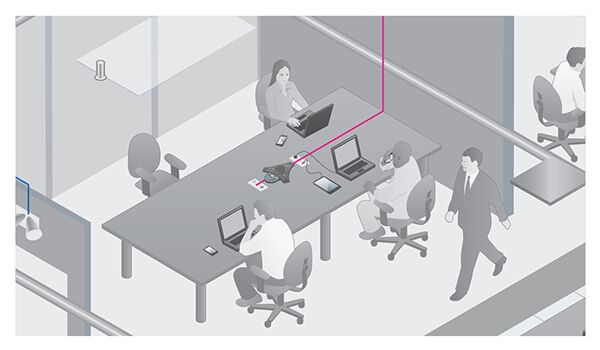 Intelligent lighting and sensors
Problem: You need to provide optimal infrastructure to support a highly efficient lighting platform with integrated sensing and controls.
Recommended solution: Newer lighting systems with efficient LED lights and integrated sensing and control capabilities rely on twisted-pair cabling to deliver a high-performance building intelligence platform. This platform gives you sophisticated analytics that optimize occupancy and energy efficiency.
.
Occupancy sensors monitor real-time and historic data on room usage and occupancy rates—letting you make better-informed decisions about room configuration and sizing.
Typical deployments provide ceiling connectivity to fixtures, downlights and sensors.
Intelligent lighting and sensors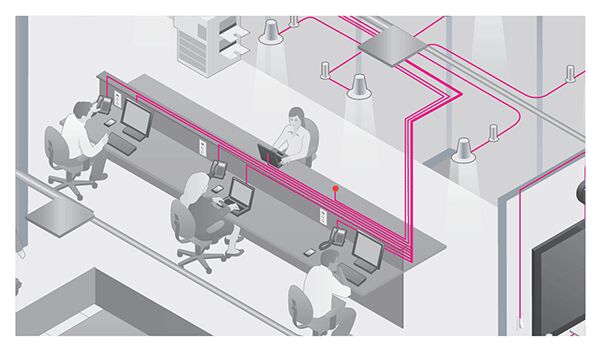 Audiovisual services
Problem: You need to provide optimal infrastructure to support evolving audiovisual requirements in collaborative spaces and conference rooms.
Recommended solution: The internet of things (IoT) is growing rapidly, and you'll only encounter it more over time in your buildings. A state-of-the-art audiovisual kit is an example of IoT, and increasingly relies on twisted-pair cabling and PoE to support devices like projectors, touch screens, digital displays, electronic whiteboards and other HD video and audio equipment. As offices evolve and become more flexible workplaces, you'll likely need to support both on-site and remote meeting attendees, which places greater demands on AV solutions.
Category 6A cabling delivers optimal performance that can support growing bandwidth demands for HD video and audio, and also support the power and data requirements newer audiovisual systems have based on the HDBaseT Alliance.
Audiovisual services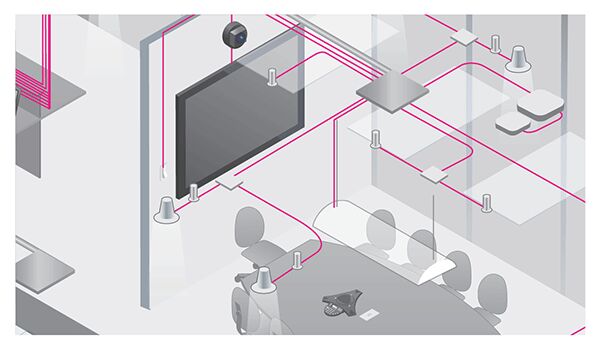 Building automation systems and access control
Problem: You need a reliable infrastructure to support building automation and access control systems with a wide range of controllers, sensors, and devices that rely on legacy protocols as well as IP communication.
Recommended solution: Recommended solution: Twisted-pair media is increasingly being used to support building automation and access control systems, as well as other IoT devices.
Category 5e or higher cabling can be deployed to support devices that rely on legacy protocols, and also for newer devices that rely on IP communication.
An increasing number of building automation and access control devices are now PoE-enabled. Deployments typically use Category 6A cabling to provide connectivity to controllers, sensors, VAVs, card readers, and other building automation and access control equipment.
Building automation systems and access control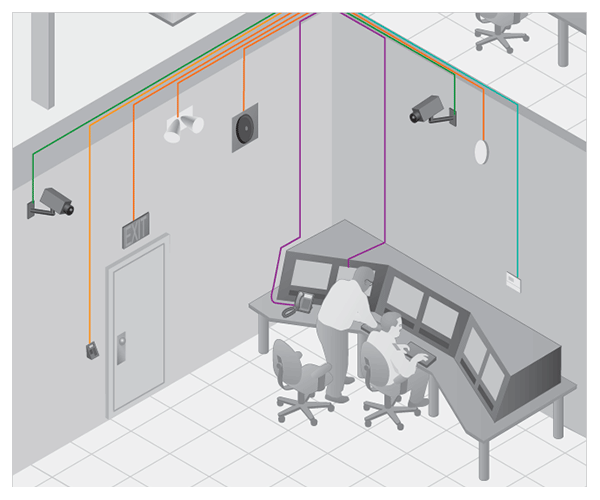 The future of UCG
Workplaces have changed dramatically in recent times, as many workers moved from offices to makeshift workspaces in their homes or other remote locations. But even as workers and businesses are getting used to this new status quo, business leaders were already asking the question, "What will the workplace look like when we all come back?"
We're getting an idea of what it looks like. One trend is the rise of the hybrid workspace to accommodate a mix of on-site and remote workers. Many workers now say they don't want to work for an employer who requires them to work on-site full time, while others say they want to work remotely at least one day per week.
As such, there's now a trend for companies to reduce the amount of office space they lease. Office real estate vacancies are on the rise, and companies are rethinking remaining office spaces while taking the opportunity to cut back on real estate costs. Instead of rigid spaces composed of private offices and cubicle farms, companies are looking at hybrid office spaces with shared desks, flexible office configurations, and health and safety mechanisms that address a majority of employee post-pandemic concerns.
A few take-aways:
Spaces need to be flexible—Office spaces designed to focus on traditional static, private workspaces are seen as limiting how people can efficiently use space. Spaces that can safely foster easy collaboration for both in-person and remote workers will likely be more common.
Hot desking—Flexible hours and workstyles were on the rise before the pandemic. Post-pandemic, they may become more mainstream—leading to a reduction in personal offices, cubicles or desks.
Health and safety are paramount—Health and safety have become more prominent in workers' and managers' minds—leading to consideration of spacing, cleaning rotation, capacity, and air quality.
To support these new workspace priorities, you'll benefit from underlying technology innovation and investment. For example, smart building systems can automatically track and manage occupancy, cleaning crews, air quality and safety, while Wi-Fi networks support workers moving around anywhere within an office space.
UCG: flexible infrastructure for flexible workspaces
Enabling a flexible workspace needs a network architecture that is as flexible and dynamic as the workforce it supports. CommScope's universal connectivity grid (UCG) does this by organizing a workspace into areas called "cells." By deploying consolidation points (CPs) for network connectivity in these areas, you can equip your building to provide highly flexible workspace options while still supporting the core network needs of the workforce.
The UCG lets you support multiple applications that enable the workplace of the future, including wireless LANs (WLANs), mobile technologies, health and safety sensors, building automation, and access control. In collaboration spaces that carry heavier wireless requirements, you can use CPs to provide power and connectivity to more WLAN access points. WLAN and wired connectivity can support focused workspaces in a shared desk area and also support systems that detect occupancy, to let others know what spaces are available, or to notify building services that a space should be cleaned before someone else can use it.
The workplace is evolving, and will continue to evolve, as end-user demands dictate. CommScope is the perfect partner to support not just your needs of today, but also the dynamic needs of tomorrow, with progressive architectures like our universal connectivity grid.
Get your infrastructure future-ready
With knowledge of structured cabling practices, you can help your IT and facility managers and, as a result, save costs, improve network performance and make network management easier over these long time frames. The CommScope universal connectivity grid (UCG) approach gives you an elegant and flexible approach to cabling network design.
As an emerging physical layer architecture for intelligent buildings, UCG is designed to deliver high bandwidth and remote power capabilities that can support your intelligent building applications, while also giving you enhanced efficiency and flexibility.
By being based on service areas rather than a desk- or device-centric connectivity approach, UCG can be tailored to give your building optimal connectivity and capacity. Managing UCG cabling and connected devices in your building is best done using an automated infrastructure management (AIM) system. As the growing focus on efficiency, security and productivity drives deployments of more wired and wireless devices in buildings, a UCG can give you the essential foundation that maximizes your building's potential and makes it more attractive to tenants.
Useful resources about the universal connectivity grid
Solution
Universal Connectivity Grid
eBook
Smart Building Connectivity
Brochure
The Universal Connectivity Grid
Design Guide
Universal Connectivity Grid
Insights
Structured Cabling Systems: the Fact File
Insights
Cat 6A: the Fact File
Insights
In-building cellular: the Fact File
Insights
Multimode Fiber: the Fact File
Why choose CommScope?

SYSTIMAX created the SCS concept 40 years ago and has led the market since then

Breakthrough solutions that become mainstream years later

Guaranteed performance in line with CommScope's warranties—always exceeding standards specifications

End-to-end solution

Trained and qualified technical support in 150 countries

SYSTIMAX solutions precede the standards and set the footprint

PartnerPro Network: hundreds of trained and qualified companies with expertise on SCS design and deployment

A warranty to rely upon—covering not just products but applications
Smart building trends to come: why a universal connectivity grid is a must-have
Smart buildings need connectivity, power, flexibility and convenience. We explain why a UCG can help you provide all that with the minimum disruption.
Read