Intuitive, first-time-right solution to speed up fiber deployment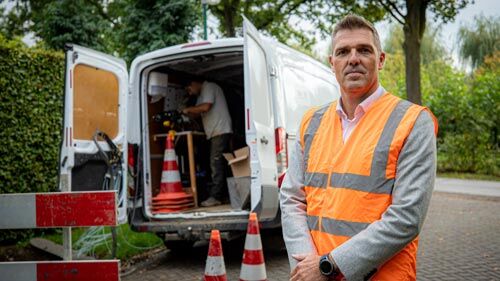 The Netherlands is leading the way with the highest broadband penetration per capita and one of the fastest average broadband speeds. The Netherlands' fixed broadband penetration of the population is set to reach 48 percent by 2024.
To become a gigabit society, the country is focusing on deploying fiber optics. CommScope is working with Dutch municipalities' internet service provider E-Fiber to accelerate the transition to a full fiber network architecture and support their full fiber deployment in the most challenging and outlying areas.
E-Fiber has set an ambitious goal to connect 500,000 homes by 2025. Part of this rollout is taking place in the Land van Cuijk region famous for its beautiful landscapes and historical buildings. The project also requires passing 40,000 addresses and includes 1 million meters of digging. From the earliest phases of the project, E-Fiber and CommScope worked closely together. The need for a fully integrated, end-to-end solution resulted in E-Fiber's decision to use a range of CommScope products, including fiber-optic panels, closures, cabling and customer premises boxes.
Download the case study to learn more about how CommScope solutions have helped E-Fiber optimize the cost and speed of deployment of their scalable, future-proof fiber network.
Customer
E-Fiber is a fibre-to-the-home ("FTTH") business that develops, builds and commercializes FTTH networks in small towns and semi-rural areas of the Netherlands. The Company has a strategy to become a large owner and provider of next-generation broadband infrastructure in the country having over 100,000 homes already passed and several further large rollouts at advanced stage.
Challenges
Large-scale rollout in a combination of built-up and rural areas
Need for a solution that simplifies rollout and optimizes CapEx and OpEx
Requirement for a point-to-point-optimized solution
Solutions included
POPs: MFPS 1HE 96LC
Backbone: Tenio and FIST GCO2
Cable: 96F micro cable and 2F uni-tube outdoor customer drop cable
Access network: EDSA, OFDC-C12
Customer premises: pre-fibered HFTP
If you are interested in this case study, you may also be interested in:
Data Sheet
48-Drop FTTH Enclosure FIST-EDSA