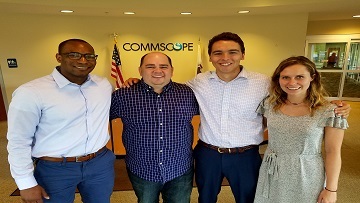 It's a war for talent. If you're a hiring manager or work in talent acquisition, that's undoubtedly a phrase you're quite familiar with. These days, it's a candidate's marketplace, especially those who are fresh out of school or are considered early in their career (zero to three years of experience). In the network infrastructure industry, there is continued effort on identifying and attracting emerging talent in the S.T.E.M. (science, technology, environment, math)-related fields to gain competitive advantage and quickly fill critical roles.
The 2018 Yello Recruiting Study shared the following key insights about young job applicants:
Growth: More than 50 percent of graduates said the most important considerations when accepting a job are career advancement and the type of work they would be doing.
Speed: Half of applicants have multiple offers to consider. Companies no longer have the luxury of believing they are the only offer on the table.
Connections: The candidate experience has everything to do with accepting a job. Sixty percent of respondents said the application and interviewing process are the deciding factors behind accepting a job.
CLICK TO TWEET: How does our industry combat the talent wars?
One of the best ways to engage and attract talent is to build relationships with candidates earlier in their careers. CommScope has sought to do this through several early career programs, including our Summer Internship Program. The value of the program is that it provides students with exposure to short term para-professional projects that reinforce and build on their academic learning.
Some of the short-term projects from this summer included the global automation of Nutanix, an infrastructure layer that is optimized for virtual environments. Interns also helped create an Adjustable RET Linkage which allows the phase shifter on a cell tower to tilt the elevation beam to adjust coverage (BSA Engineering Project).
In addition to the scope of project assignments, CommScope has worked to create differentiation in our program by adding several professional development opportunities aimed at broadening our student learners' skill sets.
During this past summer, our interns had the opportunity to participate in the following activities:
Executive Speaker Series
"Managing professional brands on LinkedIn" discussions
Former intern/current employee panel discussion
Site tours of AT&T Stadium (Dallas Cowboys), Bank of America Stadium (Carolina Panthers), Target Field (Minnesota Twins) and O'Hare International Airport to view network infrastructure
Franklin Covey presentation advantage course
Final presentations
This past summer, our interns in Joliet/Westchester, Illinois, also had an opportunity to participate in a Facebook Live event. It was designed to provide the interns with a forum for talking about their internship experience with CommScope as well as glean their insights about working in network technology.
While identifying emerging talent early and creating strong programming are vital, it is equally important to be able to brand ourselves to these candidates in a way that gets them excited about the work they will be doing, as well as showcasing our culture and values. As the generation shift continues to occur across organizations, it is important to recognize the differences in engagement drivers for the expanding Millennial and Gen Z workforce.
The Facebook Live event is a great example of this. It empowered our interns to communicate with their peers how their experiences were able to impact CommScope's mission, and better understand that mission is. Check out the videos of the Facebook Live event to see our interns in action.