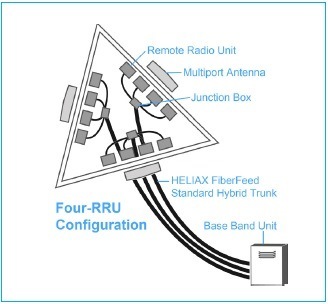 This blog post is part of a series called "CommScope Definitions" in which we will explain common terms in communications network infrastructure.
The Common Public Radio Interface, or CPRI, is an evolving specification for wireless communications networks defined by a consortium of original equipment manufacturers (OEMs). The specification relates to the communication link between radio equipment controller units, typically known as baseband units (BBUs), and the radio equipment itself, which we call remote radio units (RRUs).
CPRI is not a standard, though. The CPRI specification only defines the key criteria for interfacing transport, connectivity and control communications between the BBU and RRU. Aside from adhering to the framework, each radio equipment OEM encodes a unique adaptation of the specification to provide processing efficiencies unique to their hardware.
In the distributed antenna system (DAS) marketplace, system vendors traditionally have not been able to interface their equipment directly with base station systems using the CPRI protocol. Instead, the DAS interface used analog radio frequency (RF) processing, remote radio heads for amplification, stacks of signal manipulation panels and complex cabling networks. The connections between these active and passive network elements often gave opportunity for error, increased points of failure, and loss of active communication between the BBU and DAS input.
CommScope enjoys a partnership with Alcatel Lucent, now part of Nokia, that enables a direct digital optical link from the BBU to the DAS via CPRI. The direct digital interface eliminates the need for redundant RF processing and conditioning. CPRI-fed DAS solutions are proven to offer simplified installation, improved performance and lower overall total cost compared to traditional RF-based DAS architectures.
The CPRI specification is produced by a number of OEMs including Ericsson, Huawei, NEC and Nokia. The CPRI specification is at version 6.1 at the time of this post and provides a complementary framework for radio equipment OEMs to execute support of the evolving 3GPP standard.
Key Takeaway: Common Public Radio Interface, or CPRI, is an evolving specification for wireless communications networks defined by a consortium of original equipment manufacturers (OEMs). The CPRI specification defines the key criteria for interfacing transport, connectivity and control communications between baseband units (BBUs) and remote radio units (RRUs).

Related Resources: