Gigabit Internet is at the tip of everyone's tongue going into next week's INTX show. And once again,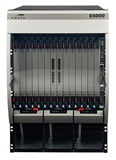 ARRIS is ahead of the game.
We've showcased our leadership in CCAP and DOCSIS® 3.1 with the broad adoption of our E6000™ CER—the industry's most widely-deployed CCAP platform. In fact, we're currently in extensive CCAP customer trials, and we are a clear leader in the CableLabs® DOCSIS 3.1 interops, with early deployments planned for later this year.
And at INTX, we'll highlight how our popular E6000 is enabling multi-gigabit speeds on today's HFC systems with IP video and HSD support, in two live demos:
The first demo features the E6000 CCAP platform supporting a registered DOCSIS 3.1 cable modem—sending data and IP video packets bonded across both Single Carrier (SC)-QAM and OFDM channels at gigabit speeds. It showcases the E6000's unique ability to support downstream DOCSIS 3.1 technology via a software only upgrade on the same hardware that ARRIS customers have been deploying for the last two years.
In the second demo, the E6000 CER will support CCAP functionality, hosting a DOCSIS 3.0 gigabit demo while simultaneously supporting video edge QAM channels. This demo highlights ARRIS's best-in-class hitless RF sparing for both the DOCSIS and edge QAM channels.
"Just as the ARRIS C4 CMTS brought hitless RF sparing to the CMTS world, the hitless sparing of the E6000 CER is truly a game-changer for CCAP products," says ARRIS's Todd Kessler, Senior Vice President of Product Line Management for CMTS and CCAP products at ARRIS.
With our industry leadership in CCAP and DOCSIS, ARRIS is enabling efficient and cost-effective gigabit speeds of DOCSIS 3.0, 3.1, and combinations of the two. We are the interoperability platform of choice for all major DOCSIS 3.1 cable modem silicon providers, including Broadcom, Intel, and STMicroelectronics, and we have anchored ALL of the DOCSIS 3.1 CableLabs 2015 interop events.
And, as if that is not enough, our second generation of line cards are not that far off! You will be amazed at what is yet to come!
Come by our booth (#101) at INTX to see how we're powering Gigabit Internet!