Our SURFboard modems just may be perfect. They're fast, reliable, and affordable. And now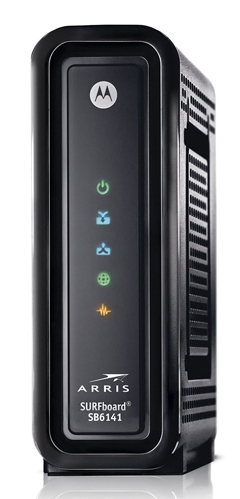 we're giving you a choice for colors for one of our most popular models.
For a limited time, you can pick up our SURFboard SB6141 cable modem in black—exclusively through Amazon for MSRP $99.99. It packs the speed and reliability you expect from our legendary SURFboard® line into the same compact and affordable package as our standard SB6141.
We knew you'd have questions, so we put together this handy Q&A:
Why are you offering a black modem? Color options. You want them; we give them to you. 
Does the SB6141's black color scheme signify different specs? In short, no.
If the SB6141 unit is black, does this mean it is a refurbished rental from an ISP provider? Again, no. All refurbished, formerly rented units are distinguished by telltale brown packaging and sticker that states "refurbished" on the unit.
Do both the black and white units feature the same level of warranty protection? Yes, they do.
The indicator lights on the front of the unit are bright and not ideal for dark rooms; is there any way to manipulate their brightness? We're glad you asked. ARRIS is developing firmware that will allow consumers the freedom to adjust the brightness level of individual units. We'll let you know when it's available.
With which cable providers is the SB6141 compatible? All major cable providers. Take your pick: Comcast/Xfinity, Cox, Charter, Time Warner, Mediacom, Bright House, etc.
By purchasing an ARRIS modem, like the SB6141, do I pay a rental fee to my service provider? No, you do not. In fact, by buying one of our retail modems, you can save an average of $9 each month (or more than $100 per year) in modem rental fees. So treat yourself to something nice, or buy one for a friend.
Will the ARRIS SURFboard SB6141 support my home phone connection? It won't work with your cable Internet provider bundled telephony service but will support pure IP telephony services, such as Ooma, Magic Jack, Vonage, etc. For Comcast users, take a look at our  Touchstone Telephony Gateway TG862G.
Why should I purchase this modem? Style. Savings. Speed. The list goes on. When you buy an ARRIS SURFboard SB6141, you're getting one of the most advanced modems on the market, built from a legacy of innovation that goes back over half a century, and backed by our unmatched two-year warranty.
Everything looks good in black!