The ARRIS Engineering Design Center in Monterrey, Mexico had two very special guests last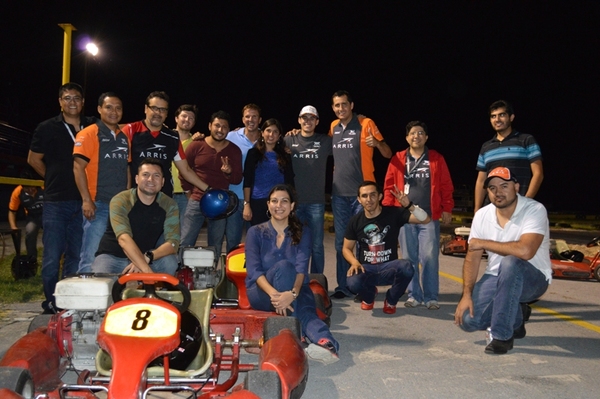 week. ARRIS Racing drivers Mara Reyes and Abraham Calderón, visited the office for a tour, a meet-and-greet session with autographs and photographs, speeches, and a raffle of prizes.
The tour included a visit to the Engineering area for a demo of the mechanical design work being done there, along with the Labs area for an explanation of what goes on in the departments of Reliability, Product Verification, and Materials Failure Analysis.
Many connections were drawn between the teamwork going on in ARRIS Monterrey and what it takes to be part of a competitive racing team, getting the most out of the machinery and vehicles while quickly troubleshooting when necessary.
The enthusiasm from our team was greatly appreciated by the drivers who learned a lot more about how ARRIS also maintains a high level of performance and speed. Not only were many wearing ARRIS Racing gear, but they also demonstrated their support by giving Mara and Abraham a framed photograph of the local team and a signed banner wishing them luck in Sunday's race – designated the 'ARRIS Gran Prix' -- and for the rest of the season.
The Telcel-Telmex Racing Team also invited employees to a go-kart track that evening where they could all show off their driving skills and at high-speeds around the track. The fun didn't stop there because, many were at the Super Copa Monterrey race on Sunday, 11 October, sitting together in ARRIS orange in support of our drivers.
And this team spirit seemed to help as Abraham & Mara crossed the finished line together 5th & 6th, respectively, both scoring in the Top-10 at the ARRIS Gran Prix at Super Copa Monterrey!