Co-Authors:

By: 

Matthew FitzGerald, 

Director Systems Engineering

By: 

Jeff Sejourne, 

Senior Manager
During many years of supporting the hotel industry, several of them while at Ruckus, we have always been amazed at the demands on technology in hotels. The push for more services that positively impact guest satisfaction and are cost effective with proven ROI for the Hotelier is a huge challenge. Plus, Hoteliers have to do this across a range of brands, properties and budgets.  The tech-savvy traveler has higher expectations that start with hotel IP Edge Networking, it is the on-ramp to the hotel technology services and the Internet.   Ruckus Wireless has been a leader in Hospitality due to our superior Wi-Fi (BeamFlex+ antenna system providing coverage and performance in guest rooms), next-gen purpose build wallplate access points (APs), first/fast to market 802.11ac Wave2 portfolio, flexible WLAN Controller options and now the powerful ICX Switch Line from Brocade.   We are excited about our support of the industry and our continued role in hotel technology.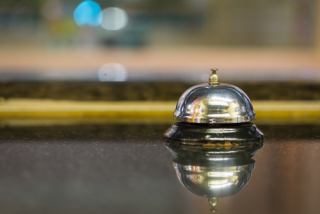 Hospitality Technology Magazine said in their
2016 Lodging Technology Study
; "In 2016, we see the emergence of an even bigger pain point for Hotel CIOs: measuring the return on investment".  The challenge of doing more with less and measuring the value returned has never been higher.  Ruckus continues to listen to the hoteliers and the hospitality industry with the introduction of two new products to address common challenges faced by the industry:
Deploying high-speed Internet access in older buildings: Older hotels are not pre-wired for network access but many if not most have a coax cable infrastructure in place for TV/Video services. The new Ruckus ZoneFlex C110 DOCSIS Wallplate AP allows hoteliers that can't afford pulling new cabling for Ethernet to use their existing coax plant and offer Wi-Fi and Ethernet cabling throughout the hotel. The C110 is a continuation of Ruckus' leadership in the Wallplate AP Market. It is a high performance 802.11ac Wave 2 access point with integrated wall switch and DOCSIS 3.0 cable modem for backhaul connectivity. This can allow a hotel with no Ethernet to move to advanced services such as Wi-Fi and IP services such as IPTV, VoIP and more.
Future-proofing the network to support next generation guest services: Keeping up with rapidly evolving technology and fulfilling guest expectations to access the latest digital entertainment and HD video streaming from their hotel room is a common challenge for hoteliers. They need to deploy a high-performance network infrastructure today that won't be obsolete in the next few years and can be easily upgraded as demand grows.   The new Brocade Ruckus ICX 7150 is the most cost effective and powerful switch on the market today, allowing hotels to cost-effectively upgrade their Ethernet Networking infrastructure.  The ICX 7150 is packed with features required by the industry at a great price point;

Stacking: ICX 7150 can stack up to 8 switches using standard SFP+ ports.
Upgradable 1G to 10G uplinks: ICX offers license upgradable SFP to SFP+ uplink ports.
High PoE capacity: The ICX 7150-48PF model delivers 740W PoE budget
Full-featured L3 support: ICX 7150 offers RIP L3 upgradable to full L3
Silent operation: The ICX 7150-24P and 7150-48P (PoE+) models offer the industry's first fanless mode configuration setting for silent operation of PoE switches with a fan.
Additional Copper Uplinks: ICX 7150 offers two additional RJ45 1G uplink ports (non-combo)
Campus Fabric: The ICX 7150 offers simplified deployment with fabric PE mode support.
SDN: The ICX 7150 supports OpenFlow
Our team is very excited about these new additions to the Ruckus Wireless Product Suite. These new products address crucial needs in the industry.  The ZoneFlex C110 will allow hotels with limited budget to retrofit their property using DOCSIS and existing COAX cabling to allow Wi-Fi and Switch ports in the room and a path to advanced services. The ICX 7150 is a powerful, but well priced, switch that addresses the edge concerns of hotels large and small. At Ruckus we consider ourselves a partner to the Hotel Industry and we try to listen and provide product and services that meet the evolving technology needs in hotels.