How do you address complaints about Wi-Fi from users who are bringing more and more devices into your
hotel rooms, meeting rooms
and
classrooms
? While your dream is to deploy a robust and reliable Wi-Fi access point (AP) and an Ethernet hub in every room at an affordable price, in-room enterprise-grade APs and switches have been cost-prohibitive – until now, that is. With the
Ruckus H320
solution, our fourth-generation
indoor wall-plate wireless AP and switch
, your dream becomes a reality. Hotel guests, K-12 students and condo dwellers can enjoy high-speed, reliable Wi-Fi and wired connectivity. The newest addition to our hospitality and multi-dwelling unit (MDU) portfolio, the H320 all-in-one product provides all the benefits of Ruckus's patented Wi-Fi goodness at a commodity wall-plate price. Now you
can
deploy one AP per room to meet user demands.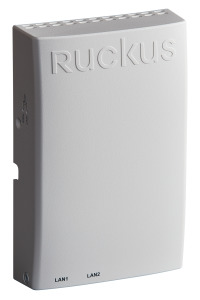 Attractively priced at $285 (list), the Ruckus H320 supports the highest Wi-Fi standard – 802.11ac Wave 2 – and specifically meets the connectivity requirements of device-dense environments. Plus, it's versatile. With two Ethernet ports, you can connect wired in-room IP devices such as an IPTV, VoIP phones or IP cameras. And if the number of ports is not enough, you can deploy its big brother, the
Ruckus H510
, which has four ports.
Ruckus in the Hospitality Sector
Since our inception, we have been committed to the hotel/hospitality industry. In fact, Ruckus Wi-Fi is deployed in the majority of tier-one hotel groups worldwide. Hotel visitors demand great Wi-Fi, and we continue to deliver with our fourth-generation wall-plate AP. In addition to the H320 product, our offerings include the
H510
and
C110
products. Our unique Wi-Fi technology has elevated us to a leadership position in this market and has enabled us to address similar needs in other markets, such as education. To learn more about the Ruckus H320 AP and other in-room, all-in-one APs and switches, visit us at HITEC in Toronto this week at booth 1829. See the
Ruckus HITEC Event Page
 for details or to arrange a meeting. We look forward to seeing you in Toronto or at your property!